Restraining Order Against 'Survivor' Producer's Dad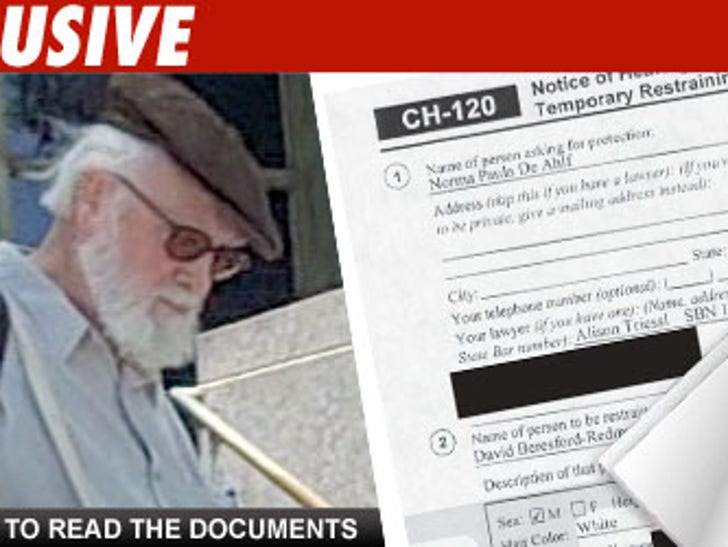 Bruce Beresford-Redman's father just got slapped with a temporary restraining order -- filed by the general manager of the restaurant Bruce's murdered wife owned ... and she believes Bruce's dad wanted to kill her because she knew secrets about Bruce and Monica.
Norma Paula De Ahlf says David Beresford-Redman entered Zabumba restaurant late Saturday night with his right hand inside of his shirt and asked an employee "in a very threatening way, 'Where is Norma? I want to talk to Norma."
Norma says, "The way he was looking at me with his hand in his shirt as if he had a weapon ... so menacingly, I honestly believed he wanted to kill me."
Bruce's lawyer, Richard Hirsch, previously called the allegation "ridiculous."
But Norma says in legal docs, "I am afraid of him and fear that he will harm me because of all the information I have regarding his son and Monica."
Norma says, several weeks before the fatal trip to Mexico, Monica told her she was going to withdraw "a lot of money from their joint account. In the following several days, she withdrew the money, she changed the locks on their house and threw Bruce's clothes out in trash bags and out into the street."
Norma claims "Bruce knew that I was aware about the extramarital affair ..."
And there's this ... Norma says in her declaration ... Monica told her Bruce and David had taken around $25,000 out of Monica and Bruce's joint account to pay a debt David owed. Norma also says Bruce and David took additional money out of the joint account to buy either stocks or bonds in Bruce's name only.
In Norma's declaration, she claims she was suspicious of the trip to Cancun because it was the only trip Bruce planned during his 11 years of marriage to Monica.
A judge in Santa Monica granted the temporary restraining order, which prohibits David from going within 100 yards of Norma. The order expires on June 22.

We shot video of Monica's sister Carla and her attorney Alison Triessl leaving court after this morning's proceedings.