Oksana to Sheriff: Lay Off My Stuff!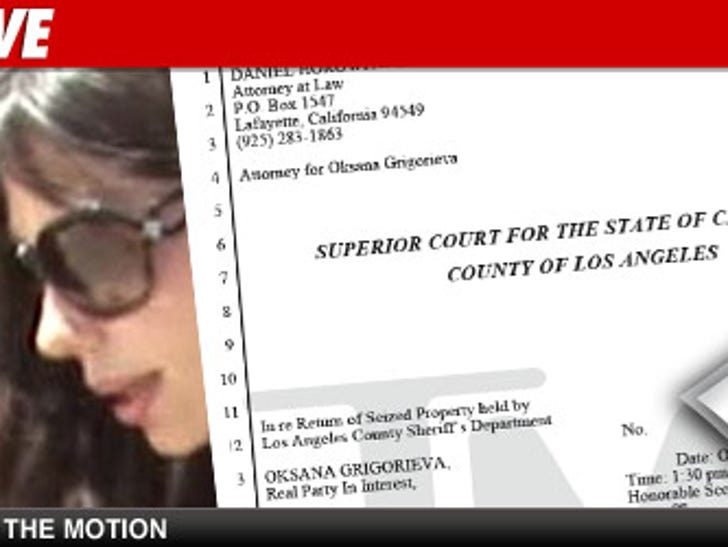 Oksana Grigorieva wants to block the L.A. County Sheriff from searching her computer in a much bigger way that we were first told ... based on new documents obtained by TMZ.
Oksana's lawyer, Daniel Horowitz, is vehemently objecting to the search warrant Judge Scott Gordon issued, allowing Sheriff's investigators to search Oksana's computer for evidence of extortion.
In the docs, Horowitz wants to limit the search to audio recordings of Mel Gibson, photos of Oksana's facial injuries, emails and text messages between Oksana and Mel. Horowitz is objecting to various other communications between Oksana and her lawyers as well as others that Mel's side believes constitutes extortion.
Horowitz rails on the extortion investigation, calling it "false." The core of the allegation is that Oksana tried extorting Mel out of $15 million during their mediation in May, in return for keeping the explosive audiotapes secret.
Horowitz says the real value of Oksana's deal was only between $1 and $2 million, and "It is not a process of extortion but simply discussion and mild negotiation."
As for Oksana putting the squeeze on Mel for money, Horowitz says, "These are communications between Mel Gibson and Oksana Grigorieva that are rather normal, civilized and reflect discussions between adults who are genuinely attempting to provide for the financial welfare of their child."
Horowitz says the Sheriff's Department has no business looking at pics of Oksana breast feeding Lucia. Likewise, he doesn't think investigators should be privy to Oksana's musical works in progress.
And Horowitz claims Mel deceived Oksana back in December, when she signed an agreement basically agreeing to get nothing if they broke up. Horowitz says Mel strong-armed Oksana, telling her not to let "this shi**y agreement be a stumbling block."
Horowitz, who says his client is a "Russian born, Ukraine raised person" was just following what her experienced lawyers said she should do and "could not be expected to know the technicalities of the law."
Horowitz will appear in court tomorrow ... facing off against the L.A. County Sheriff's Department ... asking the judge to dramatically limit the search of the computer in the extortion investigation.