Oksana to Mel: I Don't Want Your Money
Oksana to Mel:
I Don't Want Your Money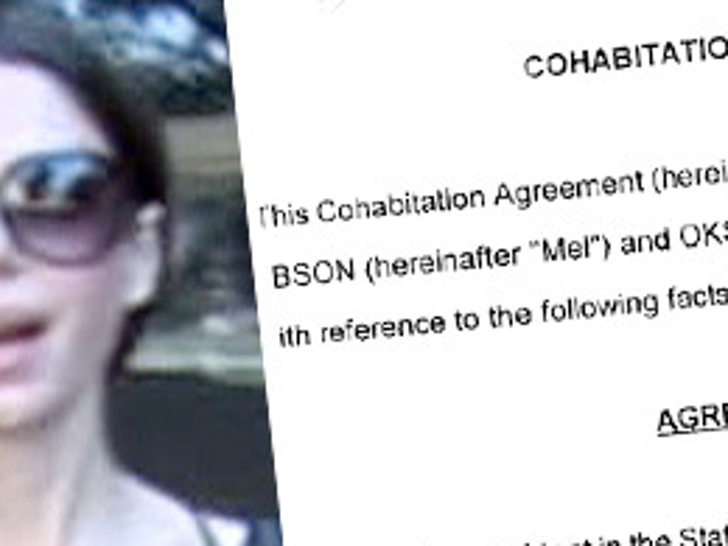 According to the "Cohabitation Agreement" -- obtained by TMZ -- Oksana and Mel both acknowledge "...they have no right to the property of the other.... " The agreement states, "Neither party has promised the other to assist in funding any support for each other or the other party's children from other relationships."
The 22 page agreement, signed on December 8, 2009, lists Mel's net worth "in excess of $150 million" and "his annual gross income averaged in excess of $5 million during the past three years."
The agreement states in multiple ways that Mel owes Oksana nothing if they break up. Their earnings and assets remain separate. All Oksana got under the agreement was the right to live in Mel's Sherman Oaks home, but he had the right to throw her out at any time with 12 months written notice.
The agreement did give Oksana the right to keep a Dodge Charger that Mel bought for her ... but that's pretty much it.
But law enforcement sources tell TMZ ... a little more than a month after signing the Cohabitation Agreement -- and after the January 6 argument -- Oksana had buyer's remorse and began demanding money from Mel.
Sources say there were numerous emails and conversations between Oksana and Mel in which she demanded money, and her demands went into high gear after she secretly recorded Mel on February 18.
We broke the story ... during their mediation in May, Oksana demanded and got Mel to agree to pay her and Lucia a total of $15 million ... in return, Oksana agreed to turn over the audiotapes and other "evidence" to Mel.
As TMZ first reported ... there is a "serious" extortion investigation underway, to determine if Oksana used the tapes to squeeze money out of Mel -- and our law enforcement sources say the Cohabitation Agreement is something that investigators are looking at closely.
We asked Oksana's lawyer, Daniel Horowitz, why Oksana went from not wanting any money in December to asking for millions in May. Horowitz told TMZ, "When she signed the agreement in December she had no idea Mel would be treating her like a punching bag in January. She gave up her career for a man who started beating her."