Charlie Sheen, Brooke Mueller File for Divorce
Charlie Sheen, Brooke Mueller
File for Divorce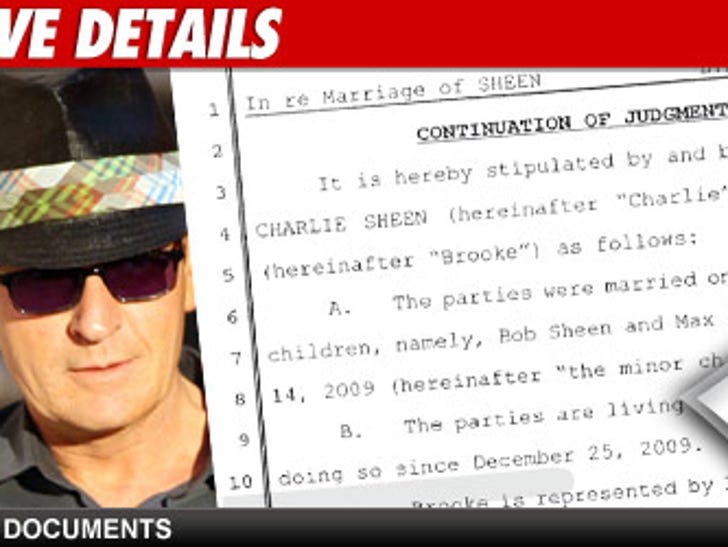 Charlie Sheen and Brooke Mueller have filed for divorce today ... and TMZ has obtained the divorce papers.
It's a bizarre divorce ... Charlie and Brooke signed a 43-page property settlement document back in May, in which they divided all their assets and agreed on child custody. According to the document -- obtained by TMZ -- Brooke and Charlie get joint legal custody of their two kids. Brooke gets primary physical custody and Charlie gets visitation.
Brooke gets $55,000 a month in child support, and according to the doc, "Under no circumstances shall the child support paid by Charlie for Bob and Max be less than the child support paid by Charlie to Denise Richards for Sam and Lola."
Brooke gets cash from several income sources, plus a lump sum parting gift of $757,689.70.
Charlie gets the family house but has to pay Brooke around $1 mil.
Charlie gets to keep his $5.6 $5.45 million watch collection.
In the docs, Charlie lists their date of separation as 12/25/09 -- the day he was arrested in Aspen for a domestic incident involving Brooke.
PEOPLE broke the story that the divorce is being filed today.