Dr. Phil Tried to Blindside Oprah
Dr. Phil
Tried to Blindside Oprah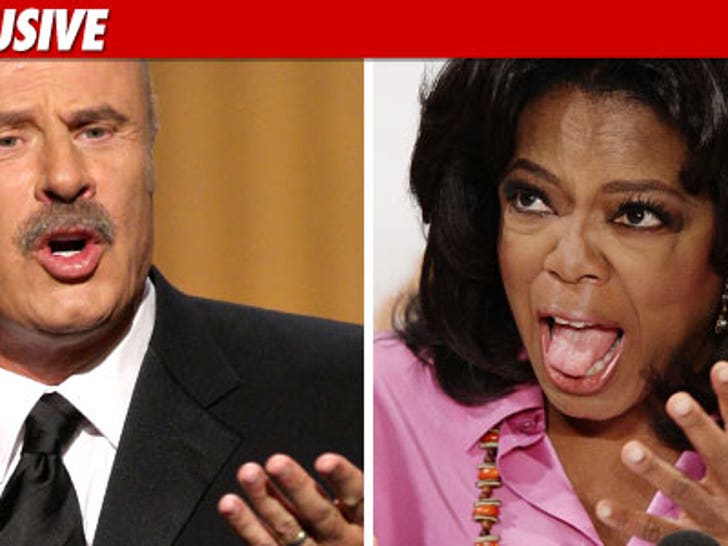 Dr. Phil set out to scoop Oprah -- the woman who discovered him -- on a huge show ... even warning his staff to keep Oprah in the dark.
TMZ has obtained legal docs filed in a lawsuit against Dr. Phil for allegedly defaming two men in the Natalee Holloway case -- the girl who disappeared in Aruba.
We placed a call to Dr. Phil's rep. So far ... no comment.
Oprah had scheduled to do an exclusive interview with Natalee's mom, Beth on Sept. 20, 2005. But Phil had been working as well to snag the same interview, when he found out Oprah was in the game.
In the docs, there is a chain of emails between Dr. Phil and his staff. One of the producers wrote an email to Phil, saying she had found out that Oprah had an interview with Beth. The producer had a plan: "But we can OUT SCOOP Oprah & do the show w/ her first no matter what we find tomorrow we still have an interesting show - plus only YOU can really help."
Phil (using initials DPM - Dr. Phil McGraw) responded, "WE DEFINITELY NEED TO SCOOP THE DEAL SO IF WE NEED TO SHOOT THIS WEEK THEN LETS DO IT." Phil adds this caution: "IF SHE [Beth] TELLS THE OPRAH PEOPLE ABOUT US THEY WILL LIKELY ATTEMPT TO DERAIL IT BY MOVING UP THEIR SCHEDULE."
The producer responds, "Grea[t] & she won't say anything to oprahs peeps she knows it would jeopardize what we are doing - I'll email you both tomorrow as soon as I talk to jamie & we can go from there!! Yippie scoopen the big O!!"