Chris Bosh Begs Judge -- Let My Kid Go to NBA Finals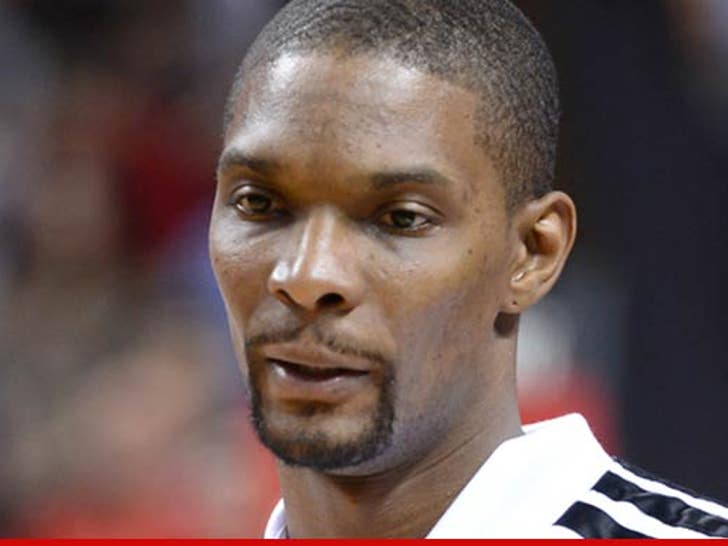 Miami Heat superstar Chris Bosh desperately wants his 2-year-old daughter to watch him play in the NBA Finals -- but his baby mama won't let her go to the games -- so he's going to court to try to force her hand.
Bosh and his ex-girlfriend, Allison Mathis, are locked in a bitter custody war -- and while they hash out a permanent solution, they are currently abiding by a temporary court-ordered arrangement in which they share custody ... and right now, their daughter is with Mathis.
TMZ obtained an emergency motion Bosh filed with a Maryland court last week -- asking the judge to temporarily alter their agreement so "[Bosh's daughter] is able to share in what, to date, is the pinnacle of Bosh's professional career, and possibly a once in a lifetime opportunity."
In the docs, Bosh also includes an email he sent to Mathis last month in the hopes of striking a deal outside the courtroom.
In the letter, Chris states, "I am embarking on a new chapter of my life by making it into the finals for the first time in my professional career and it's very important to me to have the people closest and dear to my heart to be able to share these moments with me."
Bosh continues, "If we can make this happen please respond asap and I will set up the arrangements for pick up/drop off without you even having to lift a finger."
According to the legal docs, Bosh never heard back from Mathis. So far, the judge has yet to rule on the matter ... but a source close to Allison tells us she does not want to change the arrangement.
But there's a silver lining in this story for Bosh -- according to the original arrangement, he's due to get custody of the kid back on June 11 ... one day before Game 6 of the NBA Finals.
And since the Heat lost to the Dallas Mavericks Tuesday night -- evening the series at 2 games a piece -- it seems Bosh will get to play in front of his daughter after all.
UPDATE: Mathis' mother tells TMZ, "She never objected to those dates for the playoffs or any such thing."