Maria Shriver Divorce -- Files for Divorce Against Arnold Schwarzenegger
Maria Shriver
Files for Divorce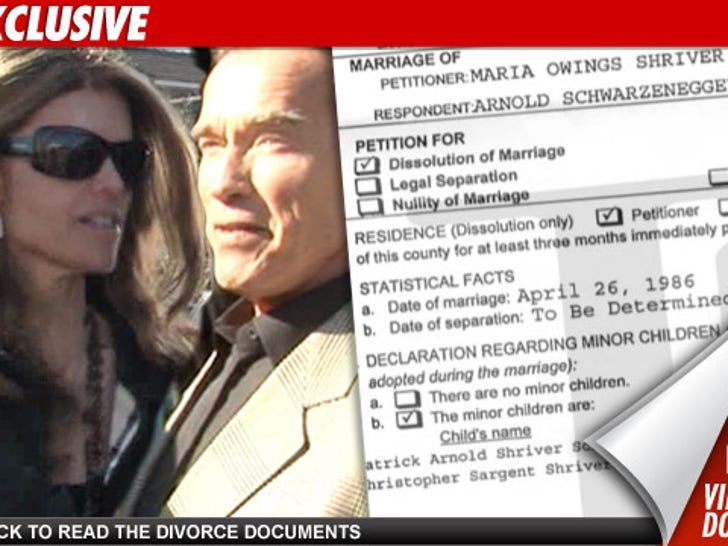 In the divorce petition, obtained by TMZ, Shriver cites "irreconcilable differences" as her reason for ending the 25-year marriage.
Shriver is asking for spousal support and wants the judge to deny Arnold the right to ask for support for himself-- though it's highly unlikely he would.
Shriver is asking for joint custody of their minor children, who she names in the document as 17-year-old "Patrick Arnold Shriver Schwarzenegger" and 13-year-old "Christopher Sargent Shriver Schwarzenegger."
And, in the petition, filed by disso-queen Laura Wasser, Shriver is asking Arnold to pay the attorneys' fees of both parties.
As for the date Arnold and Maria separated ... it isn't specified in the divorce papers.
According to the docs, the property accumulated during the marriage will be divided at a later date. And, sources tell TMZ, there is no prenup, so all of Arnold and Maria's earnings over the past quarter century will be divided 50/50.
Sources close to the couple tell TMZ ... Arnold and Maria are on speaking terms and Arnold knew beforehand that she was filing divorce papers. Maria is telling friends she hopes this will be an easy and amicable divorce.

Poncha
Arnold lost his family, money and reputation for a roll in the hay. Why not just take a cold shower. I thought he was smart, but I guess he is dumb after all. Was it worth it? NO! He's been ERASED ! ! ! !
SandyLester
Huh? I thought Kennedys didn't care about infidelity.
kar
Good luck for the people who work it out with a cheater. I for one think I am worth more than that and deserve only the best.
Googie
Asta la vista Arnold. Get him where it hurts, his money.
Barbarascy
I'm actually sad to see them divorcing. But some things just can't be fixed. I'd say this is one of them.
jpierce26
can't help but being blunt....good for her he is a D-bag. The worst kind.
MIKE
GOOD! I Hope she takes the pig to the cleaners!
Paul
Who's the "Terminator" now?
Superman
Kinda sad. He pretty much came out of nowhere and practically begged her to marry him. Then after they marry, he cheats on her for decades with many women. Greedy sc*mbag forgot to count his blessings. Same story, different rich guy.