Kim K Suing Old Navy -- You Can't COPY Me! [DOCS]
Kim K Suing Old Navy
You Can't COPY Me! [DOCS]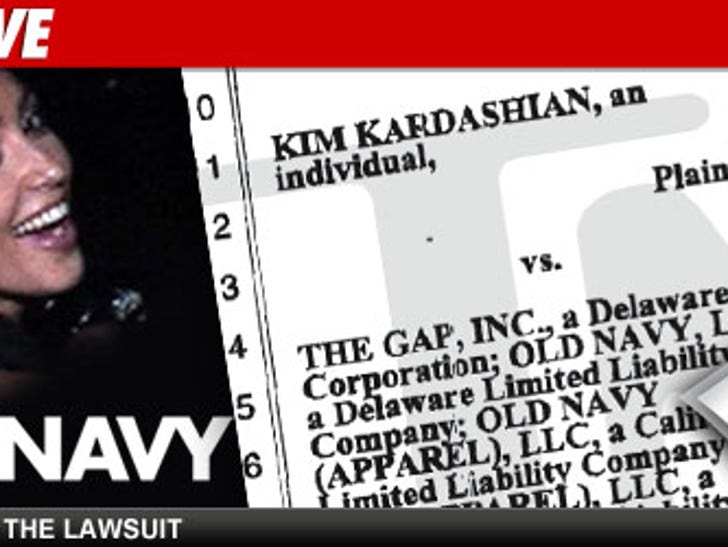 There is only ONE Kim Kardashian -- and now she's declaring a legal war on Old Navy for using a Kim K look-alike in a recent ad campaign ... TMZ has learned.
Kim is filing a lawsuit against the clothing giant -- claiming they intentionally used a look-alike in an effort to dupe the public into thinking Kim was affiliated with Old Navy.
We're told Kim is especially furious that Old Navy has been tweeting to her page about the look-alike -- in an effort to gain even more publicity.
One of those tweets read, "@CBSNEWS reports that Old Navy's Super CUTE star looks like @kimkardashian. #LOL. What do you think?"
We're told Kim believes the copycat campaign has damaged her wallet somewhere in the range of $15 to $20 million.
Ziggy
They definitely capitalized on Kim's look by using this girl. When I first saw I did think that it was Kim K when I first saw the commercial. Whether she's entitled to $15-$20 mil, that's another story.
MichaKC
First time I saw this commercial I thought it was Nicole Scherzinger from the Pussycat Dolls. But I, for sure, did not think it was Kim Kardashian.
$$
Kim is defeating the purpose by suing Old Navy...now they are getting even MORE advertising and now it's FREE!!!
FlamingoNut
They definitely capitalized on Kim's look by using this girl. When I first saw the commercial, I admit, I did a double take and could tell it wasn't Kim. Yes, she's a little full of herself (a little? okay, alot). I actually heard a few girls talking about going to Old Navy because Kim was in their commercial. Granted, they were 10-11 years old, but still, they saw the resembelence, and that's a hot market for Old Navy...
charliesgirl
i mean... they blatantly copied everything about her in a desperate attempt to associate themselves with Kim. I'd be pretty pissed too if some low-quality brand was trying to freeload off the empire i built with no shame. HELL NO!
Hank
Kim is obviously mistaken. Her "look-a-like" has very little in common with her. She is actually talented not Kim.
Jessica
So if someone looks like her, they better not want an acting career because anyone that hires that girl will get sued? Class act.
Ash
The girl has different colored eyes. Last time I checked having long brown hair wasn't trademarked by Kim.
Kari
I'm kind of shocked by these posts---I agree Kim is way too full of herself, they all are, but I think she has a point. Old Navy is trying to make money off her image, without paying for it,