RIP Blue II -- Spoiled Butler Bulldog ... Dead at Age 9
RIP Blue II
Spoiled Butler Bulldog
Dead At Age 9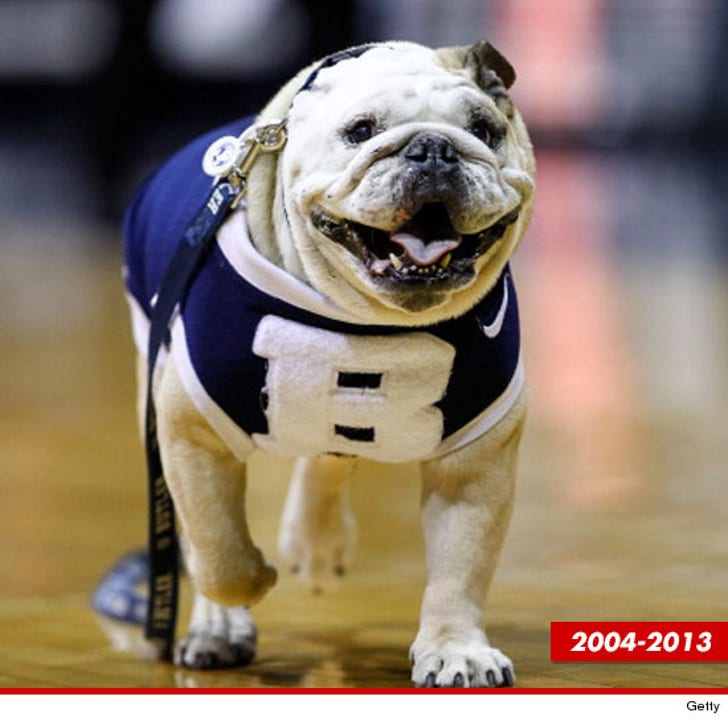 Breaking News
Blue II, the biggest celebrity to ever urinate on the hallowed grounds of Butler University's campus in Indianapolis, has died.
The English Bulldog mascot passed away Saturday of congestive heart failure, school officials announced today. "A tough day," said head coach Brandon Miller.
Blue II was one of the most recognizable of all school mascots ... appearing at every Butler men's basketball game... and traveling like a rock star aboard the team's chartered jet during the Final Four basketball championships in 2010 and 2011.
Blue II retired from his mascot duties in May. He was succeeded by Butler Blue III, AKA "Trip."
Blue II was 9. Or 63 in dog years.
Blue II is survived by 4,700 Butler University students.
Fact: The most notorious Butler alumnus is Peoples Temple cult leader Jim Jones, who orchestrated the murder/suicide of 909 cult members in Jonestown, Guyana in 1978.