Oakland University Basketball Stars Duke Mondy and Dante Williams -- Arrested for Rape
Oakland U.
Basketball Stars
Arrested for Rape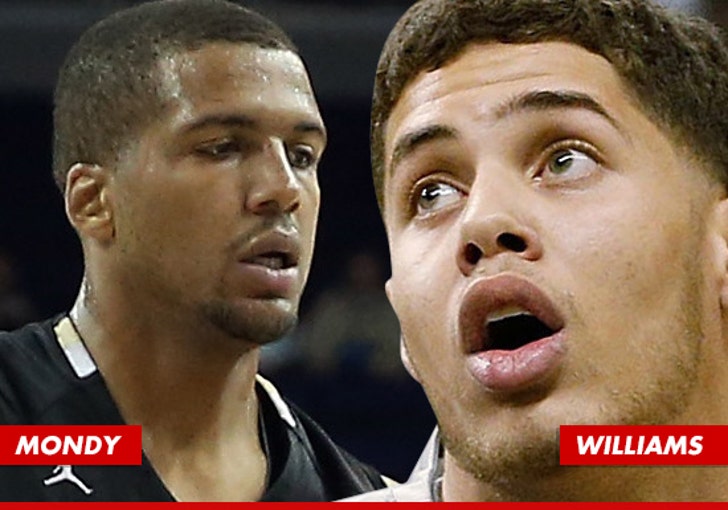 EXCLUSIVE
12:09 PM PT -- A rep for Oakland University tells TMZ Sports ... "Local California authorities have informed us that they will not proceed with formal criminal charges. However, both players have been placed on interim suspension from the team pending an internal review."
TMZ Sports has independently confirmed the L.A. County D.A. will NOT be moving forward with the case.
Two Oakland University basketball players -- including one NBA prospect -- were arrested Thursday morning after allegedly raping a woman in L.A., TMZ Sports has learned.
Law enforcement sources tell us, 23-year-old starting guard Duke Mondy and 20-year-old Dante Williams were arrested inside a Culver City hotel following an SVU investigation, and subsequently booked for rape. They are each currently being held on $100,000 bail.
We're told the alleged victim -- a female in her early 20s -- called 911 around 5AM Thursday morning to report she had just been raped inside the hotel. Details surrounding the incident are unclear.
Mondy -- who led D1 in steals last year -- and Williams were in town to play UCLA Tuesday night (Oakland U. lost 91-60).
The arrests are sure to throw a monkey wrench into Oakland U's performance in the Maui Invitational, which begins tonight. The team is scheduled to play Cal at Haas Pavilion in Berkeley, CA -- and Mondy and Williams have yet to bail out.
Calls to Oakland U. for comment were not returned.