UFC Star Thiago Silva ARRESTED for Attempted Murder [Video]
UFC Star Thiago Silva
Arrested for Attempted Murder
Accused Wife of Affair, Shoved Gun in Her Mouth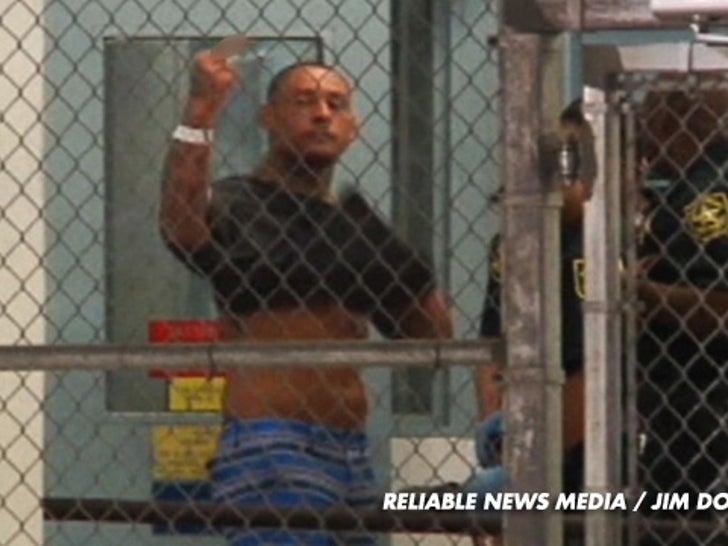 8:21 AM PT -- The judge has THROWN OUT the attempted murder charges against Silva, claiming there isn't enough evidence to prove the UFC fighter ever intended to kill his wife, despite allegedly pulling a gun on her on multiple occasions and sending threatening text messages to her.
The judge explained, "It just seems if he wanted to shoot Mrs. Silva, he would've done it. He didn't do it."
Instead, Silva was hit with two counts of aggravated assault with a firearm ... and the judge has decided to hold him in custody without bond.
Silva was not only deemed a flight risk, due to his connections in Brazil -- but the judge says there's a high risk he'll commit violence against his wife.
Thiago's lawyer had argued that his fighter was being unfairly judged because of his occupation as a UFC fighter -- saying, "There's an overreaction [with the charges] simply because the man, what he does for a living."
During the hearing, Silva's lawyer said the fighter is dead broke ... and desperately needs the paycheck he'll receive for his scheduled fight in Dallas at UFC 171.
However, UFC honcho Dana White tells TMZ Sports ... "This guy will never fight in the UFC again."
THE ALLEGATIONS -- Silva's wife told police Thiago went nuclear because he suspected his wife was having an affair with MMA instructor Pablo Popovitch, who runs a jiu-jitsu center in South Florida.
According to the police report, obtained by TMZ Sports, Thiago pulled up to Pablo's training center Thursday night ... pulled out a GLOCK and pointed it at his wife.
Thiago allegedly told his wife, "You have ten seconds to bring Pablo outside and if he does not come out, I will go in the gym and start shooting everyone."
Cops say the class was filled with 25 students at the time of the altercation.


Thiago's wife told cops Pablo raced out of the center to protect Silva's wife -- and that's when Thiago threatened to kill them both. Pablo then raced inside the gym to call 911. That's when Silva drove back to his home.
There's more ... cops say there was ANOTHER violent incident between Thiago and his wife on January 30 -- when he accused her of cheating on him.
Thiago's wife says he got so angry, he pulled out a silver revolver and shoved it into her mouth -- while threatening to shoot her. Thiago's wife eventually got free and obtained a restraining order against the UFC fighter.

THE ARREST -- UFC fighter Thiago Silva was arrested Thursday night for attempted murder following a standoff with a SWAT team after he allegedly threatened people at a jiu-jitsu school and barricaded himself inside his home -- and we have footage showing the moment he was finally captured.
Cops in Broward County, FL say the incident began just before 8 PM, when Silva went to the school owned by famed instructor Pablo Popovitch. Silva -- sporting blue board shorts -- allegedly threatened people there and then went back to his home.
According to police, Silva barricaded himself inside the home. The SWAT team arrived a short time later and surrounded the place as officials tried to get him to surrender. Silva finally gave himself up around 11:15 PM.
TMZ Sports has obtained video of Silva in the back of the cop car. The photog asked him if he pulled a gun on his wife. Silva responded no, adding, "She wants my house, she wants my money." And then he says, "Just don't report this. Can you do that for me?"
Once in the police station, Silva flipped off photogs as officers booked the fighter on 4 criminal charges -- 2 counts of attempted felony murder, one count of aggravated battery with a deadly weapon and one count of resisting arrest.
The 31-year-old Brazilian-born fighter is 16-3 in the UFC -- and was expected to fight at UFC 171 in March. We're guessing that ain't gonna happen now.