Orlando Bloom Throws Punch at Justin Bieber
Orlando Bloom
Throws Punch at Justin Bieber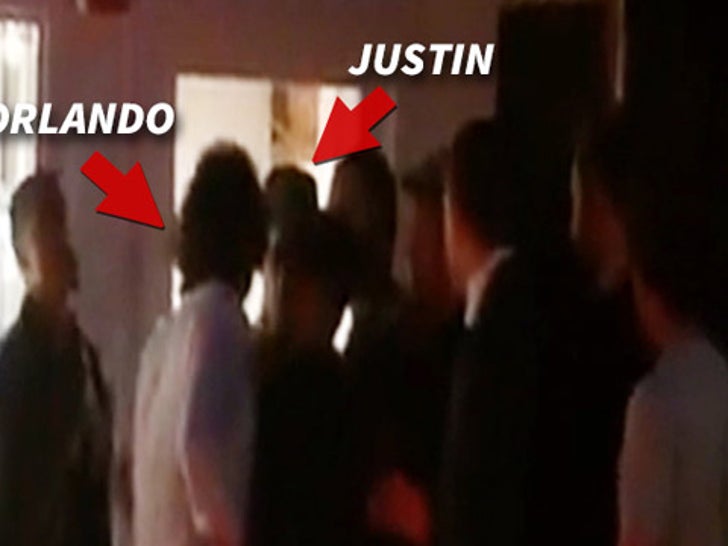 8:30 AM PT -- We're getting different versions of what incited Orlando, and people are taking sides. One account is Justin extended his hand to Orlando, who refused it, and when Justin asked what's your problem ... Orlando mentioned Miranda. Justin then tried to walk away and that's when Orlando swung.

A second version -- Justin said something to the effect of, I had sex with your wife ... and THEN Orlando swung.

Orlando Bloom threw a punch at Justin Bieber early Wednesday morning in Ibiza ... and Justin fled the restaurant -- this according to 2 eyewitnesses.
The eyewitnesses tell TMZ ... Orlando was in Cipriani restaurant which was packed with celebs, including Paris Hilton, and Diddy.
You don't see Orlando swing, but the eyewitnesses tell us that's exactly what happened. We're told Justin ducked the punch. That's where the video starts and you hear Justin scream, "What's up bitch?"
We're told when Bieber left the crowd applauded.
The backstory is almost legendary ... Justin partied with Orlando's then-wife Miranda Kerr after a 2012 Victoria's Secret fashion show in NYC and they got very VERY close. And in April of this year, Orlando was hanging out with Justin's on-and-off GF Selena Gomez. So the bad blood is flowing.
Hours after the fight ... Justin threw gasoline on the fire by posting -- then quickly deleting -- this pic of Miranda.