Tyga -- Blows Off Campus Ban ... If You Hire Me, Kylie's Coming Too
Tyga
Blows Off Campus Ban ...
If You Hire Me, Kylie's Coming Too
Tyga refuses to let anyone tell him where he can bring his underage GF, Kylie Jenner ... so he ignored a college's request to keep her off campus during his concert ... TMZ has learned.
Tyga performed at Cal State Fullerton's Spring Concert this past Saturday, and according to our sources ... concert organizers told him he should NOT bring 17-year-old Kylie to the show.
We're told not only did the university find their relationship questionable, but the show was 18 and older. Tyga must have known he had the school by the balls -- they couldn't afford to bring in another act at the last minute -- because he went ahead and brought her anyway.
While he was performing ... she was chilling at a table full of chicken wings and other appetizers -- which we're told Tyga suddenly demanded when he arrived ... an hour late.
Organizers didn't want to risk him bailing completely ...so, we're told they just let it go.
Kylie's presence didn't go unnoticed by the students, with one tweeting, "CSUF said guests must be 18 or over to enter spring concert but Tyga brought Kylie as his guest."
As we reported ... Tyga ran into the same situation during a gig in November, but opted to boycott the club. The couple put their age issues aside Monday as they flew out of LAX -- airlines don't care if he travels with a minor.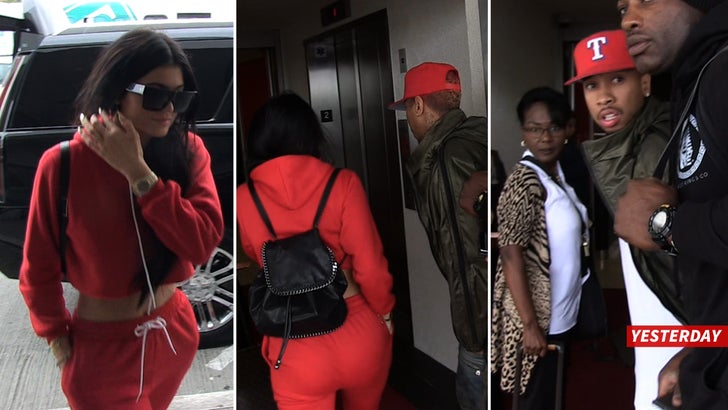 TMZ.com