Michael Jordan -- Ball Boy Unearths MJ's Olympic Sneaks ... Wants Big $$$
Michael Jordan
Ball Boy Unearths MJ's Olympic Sneaks
... Wants Big $$$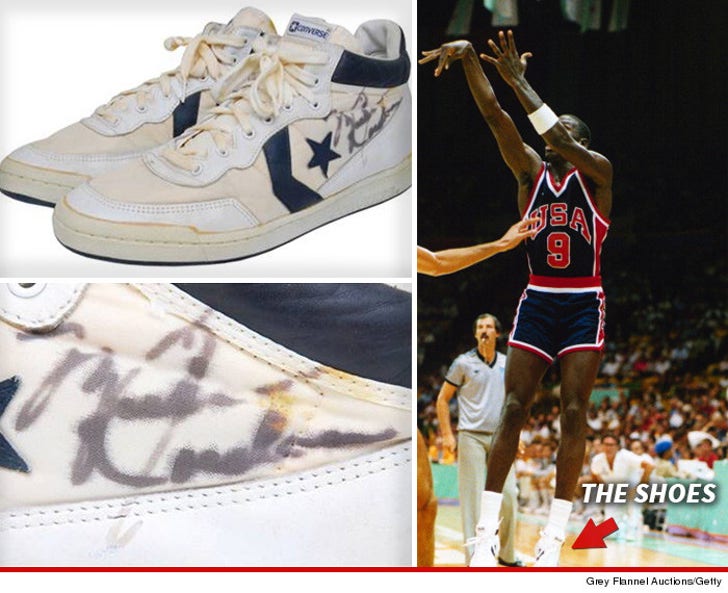 EXCLUSIVE
A former ball boy for the U.S. Olympic basketball team says he has the ACTUAL SNEAKERS Michael Jordan wore during the '84 Games ... and now, he's putting them on the auction block.
TMZ Sports has learned ... the kid, now a full-blown man, says MJ signed the kicks and gave him the pair as a gift moments after Team USA won the gold medal.
FYI -- the '84 team included future NBA superstars like Patrick Ewing, Chris Mullin and Sam Perkins.
What's interesting about the shoes ... they're made by Converse, not Nike -- and the '84 Games was the last time (at least that we could find) that Jordan rocked a pair of non-swoosh kicks on the court.
The former ball boy -- who doesn't want to reveal his name -- says he saw that Jordan's "flu game" shoes sold for $104k in 2013 ... and decided to hit up Grey Flannel Auctions to see if he could get a similar payday.
We're told the shoes have been authenticated -- and will hit the auction block on June 5th.