Mickey Mantle -- DiMaggio's a 'F**ker' Baseball ... Sells for $12k
Mickey Mantle
DiMaggio's a 'F**ker' Baseball
... Sells for $12k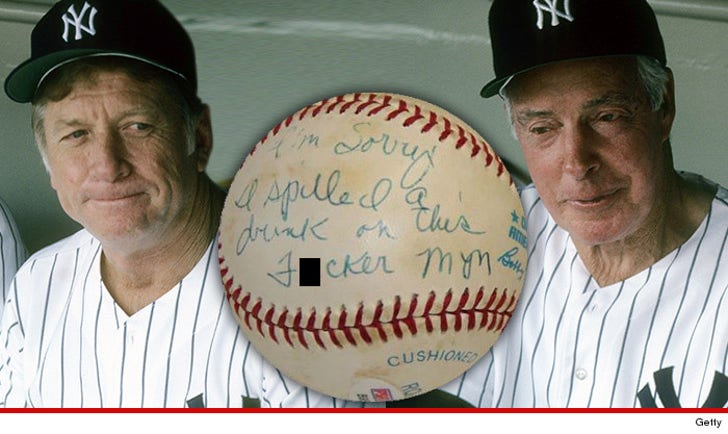 EXCLUSIVE
No one loved to cuss people out in autographs more than Mickey Mantle -- and now, a signed baseball in which he refers to Joe DiMaggio as "f**ker" has just sold ... for $12,000!!!
It's unclear exactly when Mantle signed the ball, but the people at Steiner Sports tell us Mantle signed it right after spilling a drink on DiMaggio at some sort of event back in the day.
The signature reads, "I'm sorry I spilled a drink on this f**ker. MM."
Joe DiMaggio also signed the ball ... and we're told both signatures have been authenticated.
Mantle LOVED to screw around when it came to signing his name ... sometimes dropping F-bombs because he thought it was funny (and most of the time it was) ... like here and here.
As for who bought the DiMaggio ball ... so far, the buyer's identity has not been revealed.