NFL Warns Players -- BEWARE MEXICAN MEAT ... Eating May Be Cheating
NFL Warns Players
BEWARE MEXICAN MEAT
... Eating May Be Cheating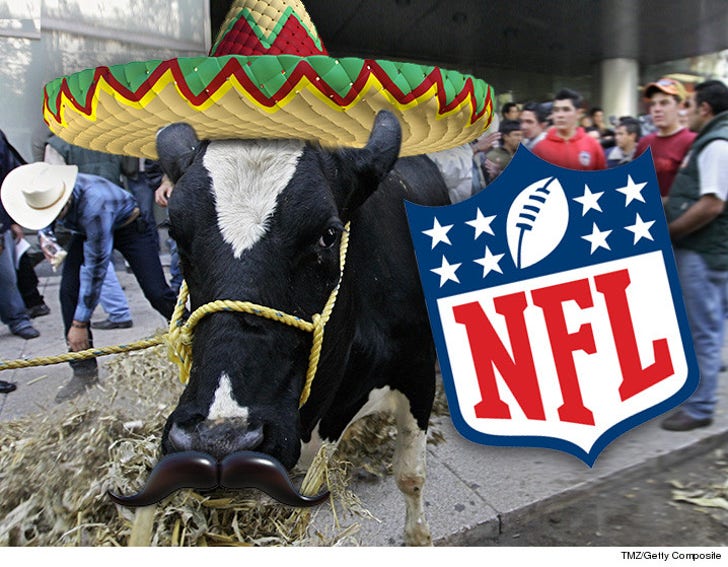 Breaking News
Looking to pack on some BIG MUSCLE while cutting a few corners at the same time?
Screw needles and deer antler spray ... it's all about MEXICAN STEAK ... so says the NFL.
Seriously, the NFL just sent a letter out to the players warning them about eating large quantities of meat products in Mexico and China because they may contain banned substances.
"There is evidence that some meat produced in China and Mexico may be contaminated with clenbuterol, an anabolic agent which is banned by the NFL Policy on Performance Enhancing Substances. "
"Consuming large quantities of meat while visiting those particular countries may result in a positive test for clenbuterol in violation of the Policy."
If players DO eat the meat and test positive, the NFL says ... tough luck, you're still screwed.
So, how are the players reacting? AZ Cardinals D-lineman Frostee Rucker says, "So let me get this straight. We have to go #vegan if we travel out of the country because there's #PEDS in #CarneAsada?"
He added a few hastags ... "#MissMeWithThat #TacoTuesday #Loyal #cabowabo #NFL #11thYear #DontEatLeague #testforGMO."
Patrick Peterson is also clowning the situation ... writing, "This can't be real life! #SMH #GottaGoVeganOnVacation."
Hey, there's always fish.