Chris Cornell's Wife's Chilling Account of Singer's Last Moments Before Suicide
Chris Cornell
Wife's Chilling Account
Of Singer's Last Moments
Chris Cornell's wife knew something was terribly wrong with her husband during their last conversation, and it brought her back 14 years to when Chris was abusing prescription meds.
We now know what Vicky told friends and family, and it's a chilling story. The following is what she told them.
Vicky says her last conversation with Chris came about 30 minutes before his body was found hanging in a Detroit hotel room. Vicky says just before Chris called her, the lights in their family home -- which Chris could control remotely from his phone -- began flickering on and off. When he called she asked him if he had just manipulated the lights and he said no -- that he did it an hour before.
Vicky immediately became suspicious because Chris was onstage an hour before. Things got more ominous as he began slurring, and every minute the slurring got worse. He was complaining about the show and his crew, saying, "They f***ed up again. They had 3 days to fix my in-ears and I was getting static. I couldn't hear."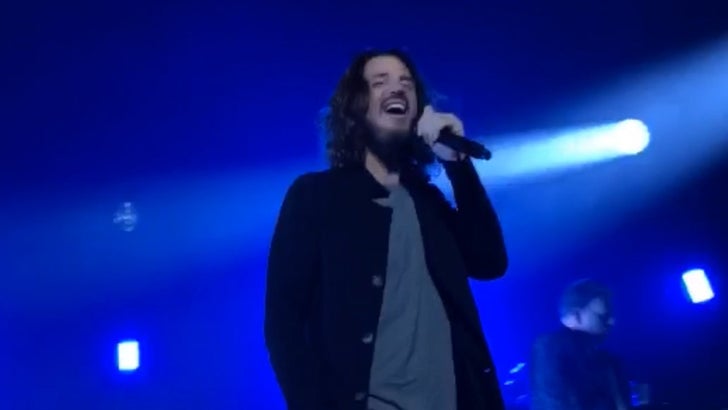 5/17/17
SplashNews.com
He then started to complain, "I blew my voice. I blew my voice." He kept repeating it. And then he changed the subject to something that made no sense.
Vicky says she knew something was seriously wrong and said to Chris, "I need to know what you took tonight. You don't sound right, sweetheart." He replied, "I was really angry and I just took 2 Ativan. I'm really pissed and I had to calm myself down."
Vicky replied, "I need to know what you took. It doesn't sound like 2 Ativan. It sounds like you took something else. You need to tell me now what you took. I forgive you."
Vicky says at that point Chris' entire demeanor changed. He got aggressive -- not toward her -- but his tone was "cocky and aggressive." She says she immediately had a flashback to 14 years before, when Chris was abusing Oxycontin ... when it got so bad at one point he nearly died.
Chris then changed the subject and made no sense at all. Vicky panicked, hung up and called Chris' bodyguard, begging him to race over to his room and get inside, and she said if he had to knock the door down then so be it. She had never had someone check on him in 14 years, but she was afraid he would die.
She says the bodyguard knocked down the front door but couldn't knock down the second, so she used a second phone to call the hotel and plead with them to open the interior door. She was screaming, "He's having a heart attack."
Vicky was still on the phone with the bodyguard when he was able to knock down the second door and saw Chris' body hanging from an exercise band.
Vicky says it took around 30 minutes from the time she hung up with Chris to the time the bodyguard found Chris.
As we reported, sources connected with the investigation tell us EMTs and cops saw fresh track marks on Chris' arm. Vicky says she never knew Chris to use needles and says just before he left for Detroit that afternoon, he was walking the streets of New York with her in a t-shirt and there was no evidence of track marks on his body.