Gunman Opens Fire on Congressional Baseball Team
Congressional Baseball Team
Gunman Opens Fire with Rifle ...
Rep. Scalise Hit
7:48 AM PT -- Law enforcement has identified the shooter as 66-year-old James T. Hodgkinson of Illinois.
At least one congressman has been shot -- along with several other people -- after a gunman opened fire on a Congressional baseball team practice.
Police say the gunman fired an automatic rifle, and reportedly got off as many as 50 shots Wednesday morning as the team was gathering in Alexandria, VA. Rep. Steve Scalise, the House Majority Whip, was shot in the hip, and was in stable condition before going into surgery.
"Fortunately, Secret Service was here because Steve Scalise was here," Rep. Wenstrup says on Rep. Scalise's security detail taking action pic.twitter.com/RhFtHySHSt

@CBSNews
In total, 5 people were hospitalized -- that number includes the shooter.
Witnesses say Sen. Jeff Flake was at bat when the shooting broke out.
Sen. Rand Paul -- who was at the scene -- says if not for heroic police stepping in and saving the day, it would have been a "massacre." He added, "Nobody would have survived without the Capitol Police."
Rep. Mo Brooks helped one victim who was shot in the leg by using his belt as a tourniquet.
Police say they have the suspect in custody.
President Trump tweeted about the incident, calling Scalise a "true friend and patriot."
Rep. Steve Scalise of Louisiana, a true friend and patriot, was badly injured but will fully recover. Our thoughts and prayers are with him.

@realDonaldTrump
Congressional Democrats had gathered at a different field to practice for tomorrow's charity game against Republicans ... and they huddled in prayer after hearing about the shooting.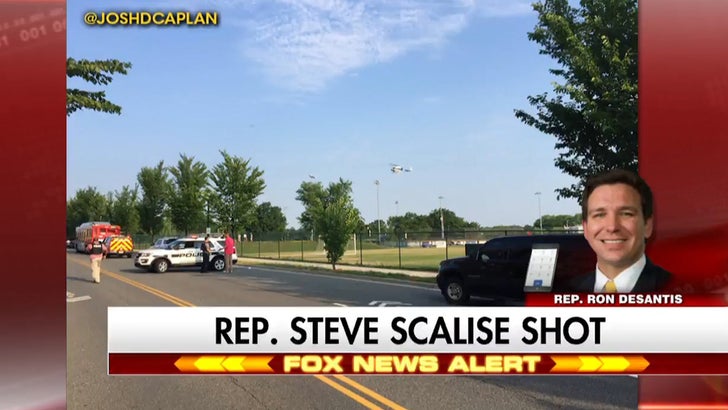 FOX News