Migos Kicked off Delta Flight, Claim Racial Profiling (UPDATE)
Migos
Kicked Off Delta
Claim Racial Profiling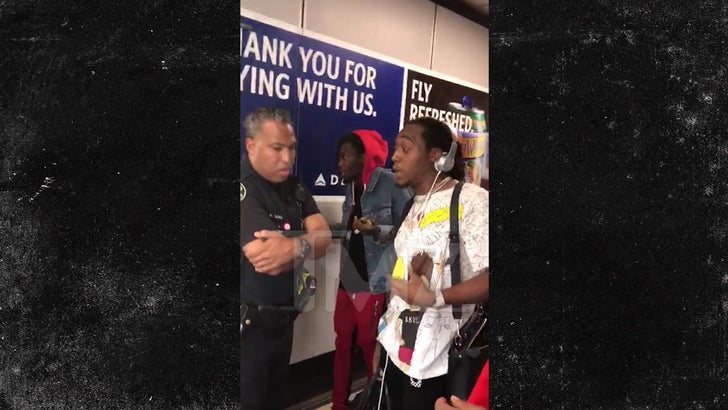 TMZ.com
Migos just got thrown off a Delta flight ... the question, were they thrown off because they were out of control or because they're black?
The incident went down Friday on a flight scheduled from Atlanta to Des Moines. You see a Delta rep in the video explain the captain made the decision to boot Takeoff, but Quavo, Offset and their manager also got off in a show of solidarity.
Their manager tells TMZ, the 3 members were in first class, exhausted, and they all fell asleep. The manager says Takeoff's book bag was on the floor and not in the overhead, as required.
He didn't obey the flight attendant and put the bag away, the manager says, because he was snoozing. He says when the plane taxied to the runway and the bag was still on the floor, the pilot decided to abort takeoff and boot Takeoff.
The video shows the confrontation on the jetway, and there were lots of accusations and threats of lawsuit. The manager says in the video there was no issue at all on the flight ... and tells us he thinks this is a clear case of racial profiling.
A Delta spokesman tells us ... the flight returned to the gate because Migos repeatedly refused to follow crew member instructions to buckle seatbelts and stow carry-on in overhead bins. Delta says it rebooked Migos on an alternate flight, which is in the air, and scheduled to land shortly after 9 PM Central time.
They have a 10 PM show scheduled in Des Moines. It's gonna be close.