Chris Hardwick Removed from Nerdist Site After Sexual Abuse Allegations Surface
Chris Hardwick
Nerdist Site Cuts All Ties
Following Sexual Abuse Allegations by Ex-GF
Chris Hardwick's been scrubbed from the Nerdist website he founded after accusations of emotional and sexual abuse by his ex-girlfriend, Chloe Dykstra, seem to clearly implicate him.
Legendary Entertainment removed all references to Hardwick on the site Friday and says he no longer has any affiliation with the company since his contract expired in 2017.
This comes on the heels of an explosive essay by Dykstra -- who dated Hardwick from 2012 to 2014 -- in which she reveals she was forced to have sex with and follow strict rules made by a man 20 years older than her with whom she was in a relationship.
She does not name Hardwick, but says this man went from being a "podcaster to a powerhouse CEO of his own company." Hardwick is almost 20 years older than Dykstra and is the founder of Nerdist Industries ... and the timeline laid out in her essay also matched up with her relationship with him.
Dykstra alleges the man she dated didn't allow her to go out at night without him, didn't allow her to have male friends and told her she couldn't drink because he was sober. She says, "I would try to sleep in as late as possible so my days were shorter. I stopped listening to music entirely. I ceased to be. I was an ex-person."
In her essay, Dykstra also claims she was regularly pressured into sex against her will for fear of upsetting or losing the man, and after she finally left him ... her career was railroaded by him and she was blacklisted at age 25.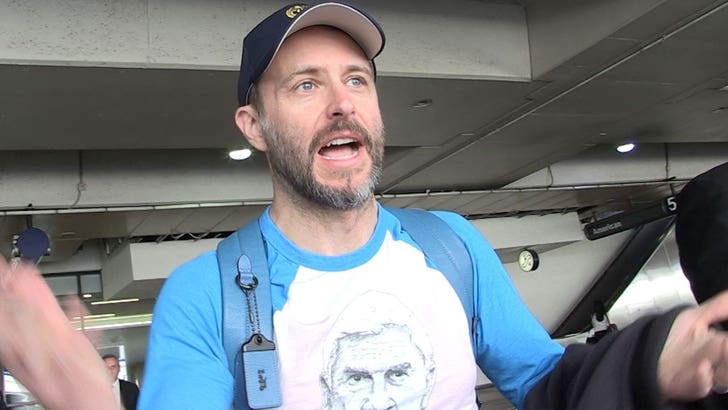 OCTOBER 2017
TMZ.com
Hardwick has yet to respond, but when we talked to him in October about the Harvey Weinstein scandal ... he told us women should go to the internet and speak up, saying "social media's really empowered people to not be victims anymore."