Cardi B Drops New Music After VMAs and Disses Nicki Minaj
Cardi B at VMAs
Drops New Music
... Disses Nicki Minaj
Cardi B didn't perform at the VMAs, but she DID drop some bars at an afterparty ... and it was all new music. Cardi was feeling herself as she rapped on stage at Tao NYC ... throwing some major shade at Nicki Minaj in the process.
With baby daddy Offset hugging on her, Cardi B busted out some new lyrics ... 'I know how to do it / Get a bag, don't I / I know how to get a b**** mad' ... pretty clear she's referencing Nicki.
The shots didn't stop there.
In another new track, Cardi B raps ... 'I'm the queen of talking sh*t / yeah I'm backing it up / yeah, back, back, backing it up' ... that's another clear swipe at Nicki and her new album, 'Queen.'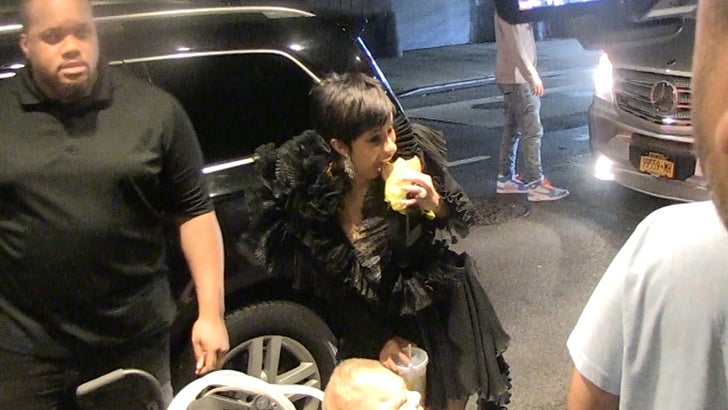 TMZ.com
Cardi then celebrated winning 3 awards by making a pit stop at McDonalds for a delicious treat.
Cardi pretty clearly shaded Nicki Minaj when she called herself "empress" during her speech. Nicki not only thinks of herself as the queen ... as we showed you, she actually thinks she's Harriet Tubman, something that has outraged non-fans and, frankly, even some of her diehard fans. Between Travis Scott, Kylie and now Cardi, Nicki had no place to safely turn in the venue.
Cardi B just showed up to the VMAs -- her first public event since giving birth last month -- and the rapper looks incredible.
CB arrived to Radio City Music Hall Monday evening in NYC rockin' a beautiful purple gown and a sweet new pixie cut. Oh, and her post-baby body is absolutely on point.
Believe it or not, Cardi just popped out baby Kulture a little over a month ago ... and it's clear she's snapped right back.
We broke the story ... Cardi will be opening the televised show in just a few minutes -- not with a musical performance, but with either a monologue or skit of some sort.