Cleveland Browns Players Deny Involvement In Rape at Their Apartment
CLE Browns Players
Deny Involvement
In Rape at Their Apartment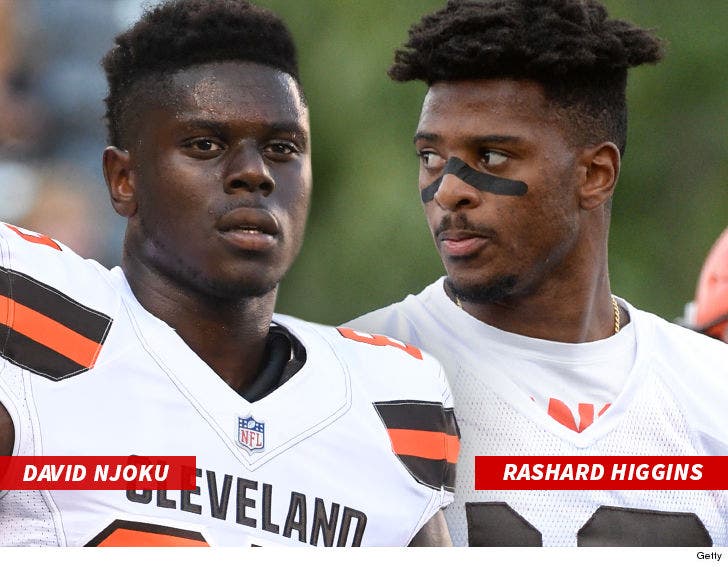 Breaking News
A 22-year-old woman claims she was raped in an apartment where 2 Cleveland Browns players live -- telling police a friend of tight end David Njoku had sex with her after she fell asleep at their pad.
Njoku is NOT accused of any wrongdoing but has been interviewed by police over the incident.
According to the police report, the woman claims she went to the upscale downtown Cleveland apartment complex where Njoku lives with WR Rashard Higgins early Saturday morning after a night of drinking with her friends.
The woman claims she fell asleep in Higgins' bed, but when she woke up a 3rd man -- Kashwayne Nelson -- was having sex with her. She immediately tried to call 911 but Nelson allegedly pulled the phone away and grabbed her by the hair.
The woman says she managed to leave the apartment and later got in touch with police.
When cops arrived, they spoke with Higgins -- who said he had hooked up with the accuser earlier that night but had left the apartment because he couldn't sleep.
While Higgins was out of the apt., Nelson allegedly snuck in and raped the woman.
Cops also spoke with Njoku -- who acknowledged Nelson is his friend who also lives in the apartment -- but Njoku says he was in his bedroom the entire evening and didn't know anything about the incident.
Ultimately, cops arrested Nelson on suspicion of rape. Cops also say he gave them a fake ID when asked for identification -- so he was also booked for obstruction of justice.
The Browns issued a statement to Ohio.com saying, "Rashard immediately notified us of the situation and he and David fully cooperated with the police while being interviewed."
"While our players were not the target of any allegations involving illegal activity, they understand the seriousness of the situation and we have expressed our concerns regarding the matter. They will continue to cooperate with the authorities as needed."