President Trump Doesn't Regret His Handling of John McCain's Death
President Trump on McCain's Death
Yeah, No, I Handled That Just Fine ...
No Regrets Here!!!
The Prez sat down with Bloomberg News Thursday for an exclusive interview in the Oval Office, and reporters asked if he missed an opportunity to unite the country and made a mistake by initially not keeping the White House's American flag at half staff until McCain was buried -- an honor that's been bestowed on other senators who've died while in office.
You'll recall ... Trump ordered the flag be flown at half staff the day McCain died, but it was flying at full staff just a day later -- which pissed off A LOT of people, and reportedly caused a veterans group to personally demand that he lower it again out of respect.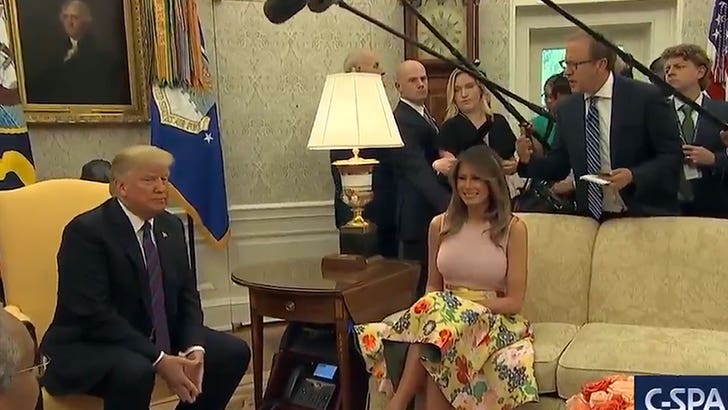 CSPAN
Trump caved to the pressure, and eventually issued a statement praising McCain's service to the country after acting clammy at first with reporters who asked about the late statesman.
There's also this ... Bloomberg asked if he thought McCain would've made a better president than Barack Obama ... and DT refused to answer, saying "I don't want to comment on it ... I have a very strong opinion, all right." Bloomberg notes that Sarah Huckabee Sanders was staring daggers at her boss while he said this, to which he reportedly joked that she was "having a nervous breakdown" over his response -- adding he might elaborate someday.
Trump did sign off on allowing McCain's casket to be delivered to D.C. Thursday on Air Force Two -- normally reserved for the VP and First Lady's transportation -- but noted he did so at the request of the McCain family.