John McCain's Body Lying in State at U.S. Capitol
John McCain
To Lie in State
at U.S. Capitol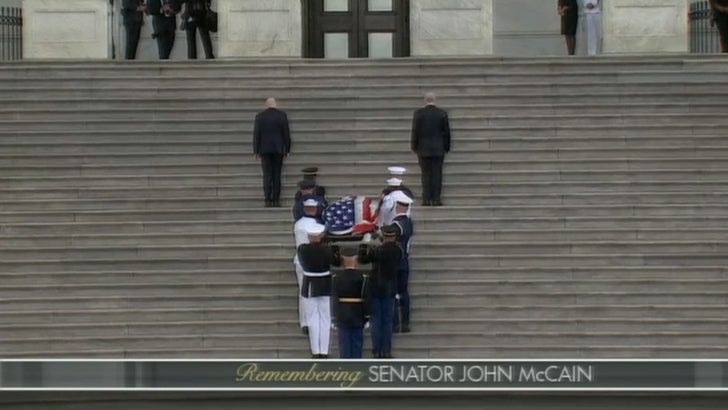 Fox News
John McCain's casket has arrived at the U.S. Capitol where it will lie in state ... and hundreds and hundreds of people lined up in the rain in D.C. to pay their respects.
Family, friends, colleagues and staff poured into the U.S. Capitol Rotunda Friday for a ceremony honoring McCain's life. Mitch McConnell, Paul Ryan and VP Mike Pence all spoke and gave tribute to late Arizona Senator.
After the formal ceremony ended, the public was able to also pay their respects. Doors to the public opened at 2 PM ET and stayed open until 8 PM ET.
At the request of the late senator's family, flowers may be sent to your local VA Hospital.
McCain's National Memorial Service will be held Saturday at 10 AM ET at the Washington National Cathedral. Former presidents Barack Obama and George W. Bush -- both former political rivals of McCain -- are set to deliver eulogies at his request.
15 people will carry McCain's coffin at the memorial service ... including former VP Joe Biden, actor Warren Beatty, former New York Mayor Michael Bloomberg and former Secretary of Defense William Cohen.
President Trump will not attend McCain's funeral after being made persona non grata, and McCain's former running mate in 2008, Sarah Palin, has also reportedly not been invited.
There's also been a push to rename the Russell Senate Office Building the McCain Senate Office Building, spearheaded by Sen. Chuck Schumer.
As we reported ... more than 1,000 family, friends, officials, civic leaders and members of the public packed North Phoenix Baptist Church for a memorial service in Arizona on Thursday, where Biden was the speaker.
On Wednesday morning, the Arizona Army National Guard carried McCain's casket into the AZ State Capitol Museum rotunda for a private ceremony for family and colleagues ... including remarks by Arizona Gov. Doug Ducey.