Jared Leto Still Hammering Mysterious Message About Highest-Paid Models
Jared Leto
Beef with 8-Figure Model Salaries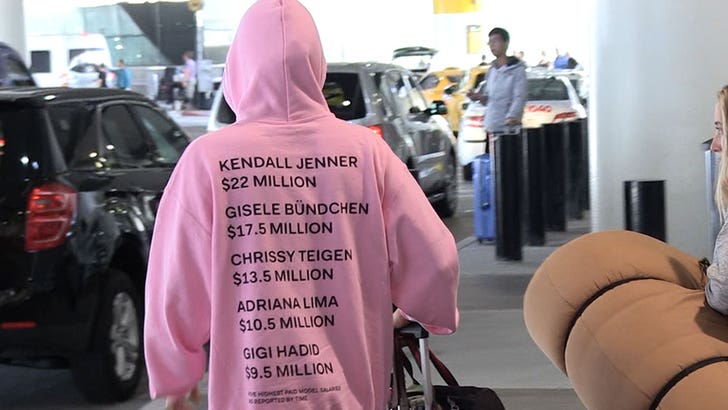 TMZ.com
Jared Leto is calling attention to the insane amounts of money a select group of fashion models pull in, and it must be very upsetting to him ... 'cause he won't let it go.
We got Jared Sunday at LAX still rocking this pink hoodie sweatshirt. On the back, it lists the salaries of the highest-paid models -- from Kendall Jenner's $22 million down to Gigi Hadid with $9.5 mil. He was first spotted wearing it around L.A. last week, and at LAX we asked what message he's trying to make.
The Oscar winner obviously has some kinda issue with the money the models are making ... especially because he keeps wearing the hoodie.
The sweatshirt references Forbes' list of the 10 highest-earning models from June 2016 to June 2017.
Only the Top 5 cracked Jared's sweatshirt.
-- Kendall Jenner, $22 million
-- Gigi Hadid, $9.5 million.
Most models don't come close to these salaries. So, maybe his issue is with the 1 percenters of the industry?
BTW, Jared reportedly earned $7 million for his role in "Suicide Squad" -- just in case Kendall's out shopping for a hoodie of her own.