Bomb Sent to Barack Obama and Hillary Clinton, Trump Denounces Acts
Terrorist Attacks
Bombs Sent to Barack Obama, Hillary Clinton
... Trump Denounces Acts
6:10 PM PT -- Authorities say they found a suspicious package addressed to Rep. Maxine Waters in a Los Angeles mail facility. The ATF says the package is similar to others mailed to high-level politicians.
It's the second time today Maxine has been targeted ... police previously intercepted another package addressed to Waters at a congressional mail facility in Maryland.
11:30 AM PT -- President Trump and Melania Trump just addressed the bombs sent to the Clintons, Obamas and others ... with Melania speaking first and condemning what she called "cowardly" attacks. Trump came to the podium next and issued an unequivocal denunciation over the bombs, saying ... "Acts or threats of political violence of any kind have no place in the United States." He got a standing O for his remark.
10:12 AM PT -- NYPD and other authorities just held a news conference to discuss the device found at the Time Warner Center. Officials say a white powdery substance was also found in the package there.
They say all of the devices -- at CNN, the Obamas and the Clintons -- appear to be pipe bombs.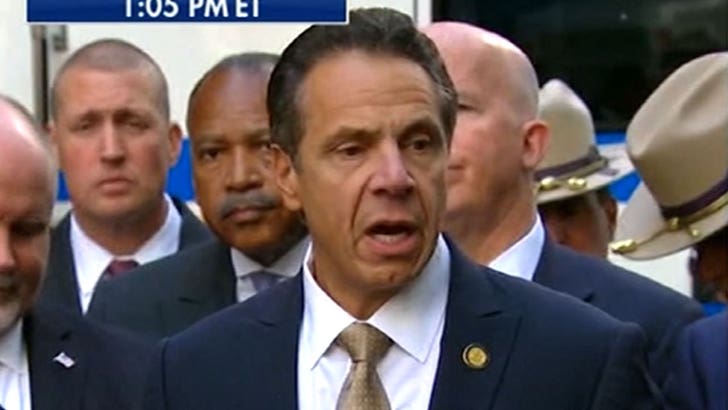 FOX News
Governor Andrew Cuomo said a potential explosive device arrived at his office, and police took care of it. However, our law enforcement sources tell us the device turned out to be a harmless flash drive.
A device was also sent to former Attorney General Eric Holder, who's expected to run for Prez in 2020 ... according to CNN. However, the package had the wrong address, and went back to Wasserman-Schultz' return address.
That appears to be the device that was found Wednesday morning at her Florida office.
8:55 AM PT -- All the packages reportedly have the same return address, which belongs to Rep. Debbie Wasserman-Schultz. She was chairperson for the Democratic National Committee from 2011 to 2016.
8:40 AM PT -- Democratic Congresswoman Debbie Wasserman Schultz's Florida office was just evacuated after a suspicious package was mailed there Wednesday morning. The bomb squad is currently on scene.
7:55 AM PT -- Law enforcement sources tell TMZ the package sent to the CNN building was addressed to former CIA Director John Brennan, who has been a frequent CNN contributor. The package was a manila envelope with 6 stamps.
7:55 AM PT -- It now appears the stories that a bomb was sent to The White House are incorrect. As far as we can tell right now, no such device was sent. That re-focuses the terrorist attacks and strongly indicates the targets were prominent Democrats who were highly critical of Donald Trump.
Also, Time Warner Center in NYC where CNN is located has been evacuated after a suspicious device was found in the mail room. That device, we're told, resembles a pipe bomb.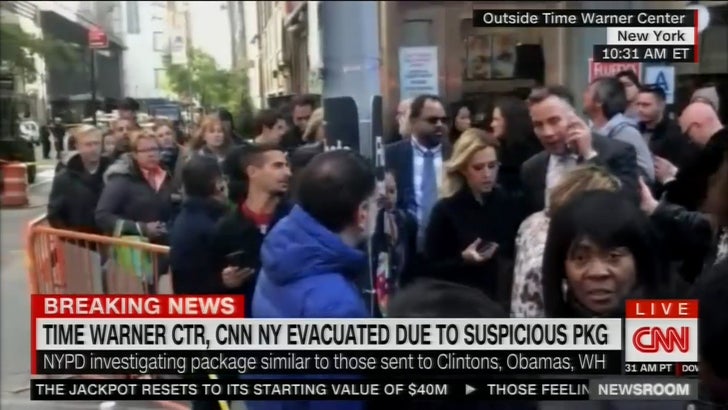 CNN
CNN abruptly went to commercial as employees filed out of their NYC studio. They came back on the air from their Washington, D.C. studios, and from the street outside Time Warner Center.
7:00 AM PT -- Authorities now say the devices sent to Obama, Clinton and Soros are "similar."
6:45 AM PT -- Federal authorities tell TMZ, they believe the same perpetrator(s) sent the bombs to both Soros and the Clintons.
A bomb was found near the home of Bill and Hillary Clinton ... and we've just learned a suspicious package was sent to the home of former President Barack Obama.
A technician who screens the mail for the Clintons found the device at a screening facility nearby their Westchester County estate in Chappaqua, NY. The device was discovered late Tuesday. Hillary was at a campaign event in Florida, but former Prez Clinton was at home.
The Secret Service says another suspicious package was sent to Barack Obama but intercepted in Washington, D.C. The device was sent by mail. The Secret Service has identified it as "a potential explosive device."
As for the device at the Clintons home ... the package was addressed specifically to Hillary. Authorities are reviewing surveillance video. They want to know if the package was delivered by mail or otherwise.
Both the Clintons and Soros live in Westchester County.
So far, no one has claimed responsibility for the attacks.
Originally Published -- 10/24/2018 6:26 AM PDT