Snoop Dogg Gets Star On Hollywood Walk of Fame, Shouts Out His Fave Celeb Duo
Snoop Dogg
Gets Hollywood Walk Star
... Shout-Out to Deez!!!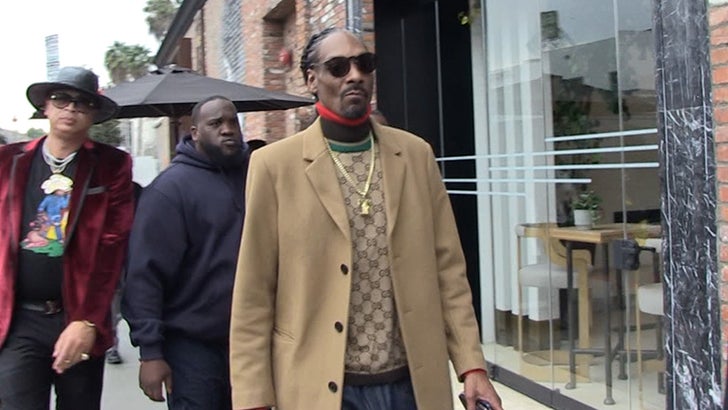 TMZ.com
It's a doggy dog world in Hollywood, where Snoop Dogg was immortalized Monday with his own star on the Walk of Fame ... and he's got an idea of who (or what) should get one next.
The rapper was joined by Dr. Dre, Jimmy Kimmel and record producer Quincy Jones for the ceremony in front of the El Capitan Theater on Hollywood Boulevard. The Doggfather's star is No. 2,651 in the history of the Walk, which has been around since 1960.
We got Snoop after the ceremony and he didn't have a whole lot to say about getting the plaque ... but had an interesting suggestion on who should get a star next ... and they come in a pair.
Snoop's star comes just 4 days before the 25th anniversary of his debut album, "Doggystyle," which rose to the top of the charts and has sold more than 11 million copies worldwide.
Born in Long Beach in 1971, Snoop's rap career began in the '80s, when his unique voice started appearing on mixtapes with Nate Dogg and Warren G ... Snoop went on to release 16 studio albums and earn 16 Grammy nominations.
Snoop's legend goes way beyond rap ... he's co-hosted a VH1 show with Martha Stewart, made cameos in hit movies like "Training Day" and "Bruno," created and produced tons of TV shows and expanded into the legal marijuana business.
What's his motherf***in' name??