Marco Rubio Blasts 'Stupid' FSU Fan Over Racist Willie Taggart Image
Sen. Marco Rubio
Blasts 'Stupid' FSU Fan ...
Over Racist Willie Taggart Image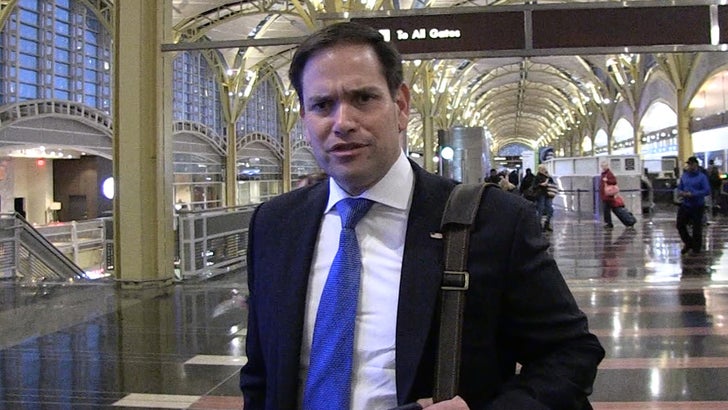 TMZSports.com
Marco Rubio says the person who posted the racist image of Florida State football coach Willie Taggart is an "idiot" ... not just because it's a hateful act, but because Taggart's a GOOD coach!
The senator says he's a Florida Gators fan -- so he's happy UF got the win over FSU on Saturday -- but says the image of Taggart hanging from a tree obviously crossed the line.
"It's just wrong to say that about anybody," Rubio tells TMZ Sports ... "It's unacceptable, outrageous."
As we previously reported, someone posted the image on Facebook of a black man being hanged from a tree with Taggart's face photoshopped over the original picture.
Rubio says Taggart's getting a bad rap in his 1st season at FSU -- he's much better than his 5-7 record shows -- and FSU fans need to rally around him.
As for the person who posted the racist image, Rubio says, "That's just stupid. I mean that's just dumb, stupid, maybe even hateful ... obviously, it's a hateful action."
"Maybe they thought it was funny. It's not funny. And whoever did that is an idiot."
The person who allegedly posted the image has been fired from his job at Hilton Grand Vacations -- the company issued a statement saying, "his behavior was in violation of multiple company policies and the furthest example from being a reflection of our company's values."