Porn Star 'Bridget the Midget' Arrested, Audio Before Allegedly Stabbed BF
Porn Star 'Bridget the Midget'
Arrested for Allegedly Stabbing Boyfriend ...
Audio of Nasty Argument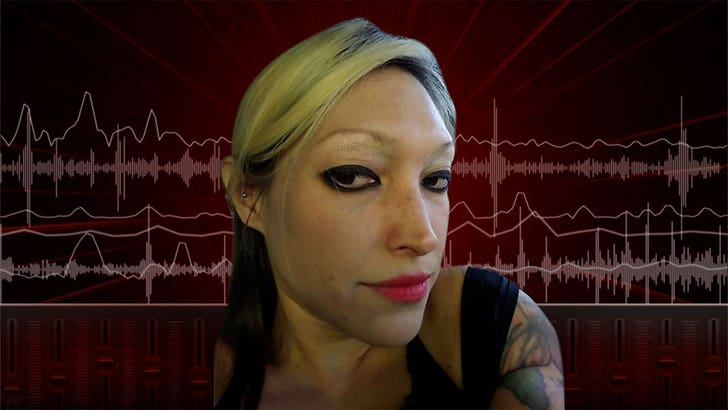 TMZ.com
10:24 AM PT -- Bridget went ballistic on her boyfriend during the argument that led to her allegedly stabbing him, dropping countless f-bombs and vulgar insults before threatening, "I will f**k you up" ... according to audio, obtained by TMZ.
In the recording, the porn star's heard from outside her apartment screaming at a man named Jesse James. She yells about money and calls him names, before accusing him of cheating with a woman she plans to out on Facebook. It gets worse ... with threats of violence and Bridget claiming she's been beat up by her boyfriend in the past.
Law enforcement sources tell us ... Bridget is still in jail, but saw the judge and will be released soon. We're told she's ordered to stay away from the victim and will have to wear an ankle monitor. So far, no official charges have been filed.
Little person porn star Bridget Powers -- who goes by "Bridget the Midget" in her movies -- got in a nasty fight that ended with her in handcuffs and her BF with a stab wound ... in the leg.
Law enforcement sources tell us they were called to a home in Vegas early Wednesday after a neighbor heard screaming and breaking glass. When officers arrived, they made contact with Powers and discovered she and her boyfriend just finished a vicious spat.
Cops say Powers stabbed him in the leg during the fight ... and he was transported to a local hospital for non-life threatening injuries. Unclear if his injury is below or above the knee.
She appeared in her first adult film in 1999, and by her own account has appeared in more than 50 projects since then. She's also made appearances on "S.W.A.T." and "The Surreal Life."
Bridget now faces charges of domestic battery with the use of a deadly weapon, burglary while in possession of a deadly weapon and assault with a deadly weapon ... all felonies.
Originally published -- 9/18 5:28 PM PT