Prince Harry and Meghan Attend Commonwealth Day Service as Final Royal Duty
Prince Harry & Meghan
Toodles, We're Outta Here!!!
Final Royal Event with William & Kate
8:56 AM PT -- Harry and Meghan shared what looked like an awkward and restrained greeting with Prince William and Kate as they took their seats at the service. Meghan gave Kate a little hello and a wave, and William gave his brother the ol' head nod ... Harry smiled and said hi back.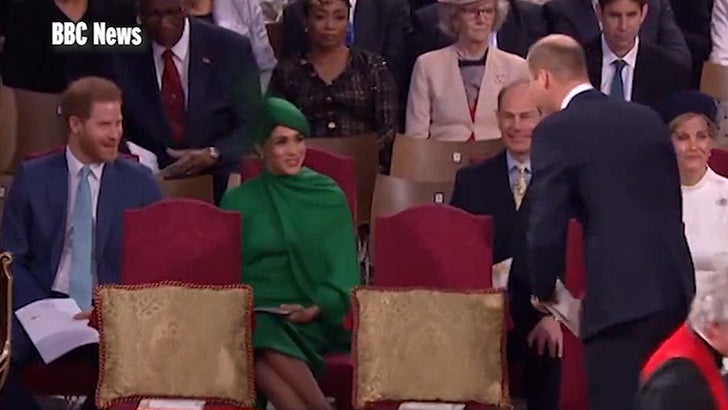 BBC
It's the first time all 4 royals have been so close publicly since the announcement of "Megxit" ... and it seems like they'll be in no rush to get back together again soon.
8:16 AM PT -- The Duke and Duchess of Sussex attended the Commonwealth Day service at Westminster Abbey on Monday, so they're officially donezo with their senior royal responsibilities. Cheerio, folks ... on to Canada!
QE2, her grandson and his wife all attended Sunday service at the Royal Chapel of All Saints in Windsor Great Park.
Now, it wasn't as warm and fuzzy as you might have hoped -- Harry and Megs drove in separately from the Queen -- but it was the first time all 3 appeared at the same public event since the couple bolted for Canada.
Meghan and Harry are in the middle of a farewell tour of sorts -- they've been in the UK since last week attending several events ... their last engagements as senior royals.
On Monday they're scheduled to perform their final duty at a Westminster Abbey service for Commonwealth Day.
They've been greeted with cheers at most of their stops around the country -- and even when Meghan went solo for an event on Friday, she was embraced.
They always love ya when you're walking out the door.
Originally Published -- 6:41 AM PT