U.S. Navy Hospital Ship Mercy
Reinforcements Have Arrived!!!
Ship Docks at L.A. Port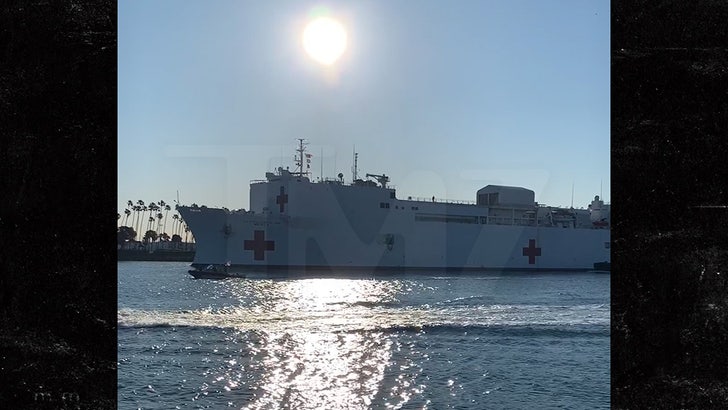 TMZ.com
The massive U.S. Navy Hospital Ship Mercy has finally arrived ... just in time to help ease pressure on L.A. hospitals bracing for a tsunami of coronavirus cases.
Mercy docked in the L.A. Port Friday morning after making the trek from San Diego. It's quite a sight ... the ship's being flanked by a fleet of what appears to be U.S. Coast Guard boats. The scene offers one helluva juxtaposition ... L.A.'s desperate help to combat a global crisis with a picturesque backdrop of sunshine and palm trees.
Mercy, which left San Diego on Monday, will provide 1,000 hospital beds, extra doctors, nurses and other staff. The ship is expected to treat patients who do NOT have coronavirus ... freeing up resources such as ventilators and intensive care units at brick and mortar hospitals.
L.A. officials fear they have not seen the worse yet nearly 2 weeks after California Governor Gavin Newsom and L.A. Mayor Eric Garcetti issued a "shelter-in-place" order. So far, there have been 21 deaths and more than 1,220 cases -- a 52% jump since Wednesday -- in L.A. County alone.
L.A.'s needs are so intense ... ABC shows "Grey's Anatomy" and "Station 19" are donating medical supplies -- such as hundreds of N95 masks and gowns -- to hospital staff working to combat the deadly outbreak.