Dr. Oz Saves Man's Life at Newark Airport After He Collapsed, Flatlined
Dr. Oz
I Saved Man's Life at Airport ...
Using CPR, Defibrillator!!!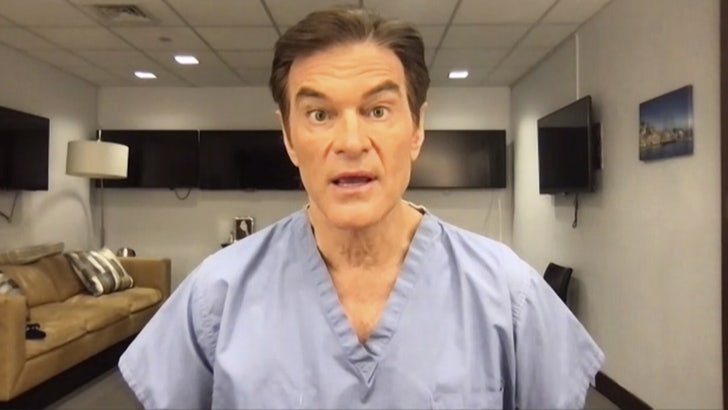 3/2/21
TMZ.com
11:24 AM PT -- Dr. Oz just detailed his lifesaving heroics at the airport ... and it's incredible.
Oz tells us the man who collapsed had no pulse, was turning a horrible color and had foam coming out of his mouth when he started doing CPR ... but things turned around when Oz was able to control the man's airway and the defibrillator arrived.
Dr. Oz says the defibrillator shocked the man at the highest power possible, and it worked ... in essence, bringing the man back from the dead!!!
Oz tells us why he couldn't have saved the man's life without the help of Port Authority police ... and our law enforcement sources confirmed the man was 60 years old and taken to a hospital, where there's been no update on his condition.
And, get this ... we're told Oz didn't tell the cop helping him exactly who he was, he just said he was a doctor.
10:39 AM PT -- We've obtained a photo from the scene of the medical emergency ... it's unclear if Oz is in the image, but you can see medical personnel around the man.
Dr. Oz saved a life at the Newark airport after a man collapsed face down at baggage claim ... and the good doc was in the right place at the right time.
Sources close to Dr. Oz tells TMZ ... Oz rolled the man over Monday night, cleared his airway and began giving him CPR before using a defibrillator. We're told the guy flatlined and Oz shocked him back to life as a huge crowd watched.
We're told there were no other doctors there, but a Port Authority police officer was there who helped Oz continue CPR while he cleared the man's airway.
It appears the man might have suffered a heart attack ... he's recovering at a New Jersey hospital and doing "okay" as he awaits test results. We're told Oz is in touch with the man's wife, who was traveling with him at the time.
Originally Published -- 9:38 AM PT