NFL's Richard Sherman Taken Down By K9 In Fight W/ Cops Before Arrest, Police Say
NFL's Richard Sherman
Taken Down By K9 In Fight W/ Cops Before Arrest
... Police Say
2:19 PM PT -- Cops just held a meeting with reporters to shed more light on the incident ... and they say the altercation all went down at the home of Sherman's in-laws.
Officials did not, however, reveal a possible motive for why they say Sherman was at the residence trying to gain entry ... but they noted at least two officers and the NFL player suffered minor injuries during the arrest.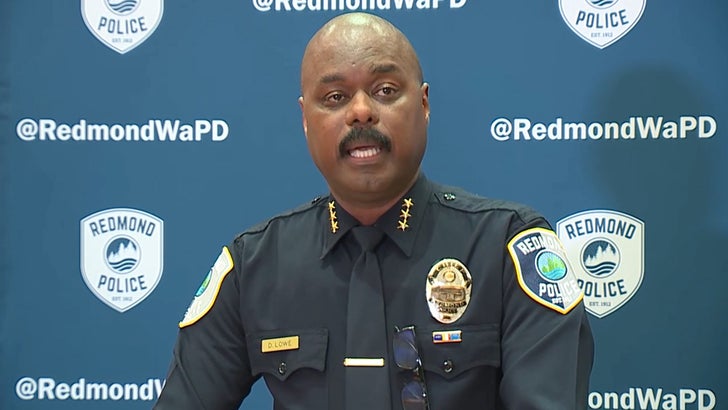 Q13 Fox
The law enforcement spokespersons said troopers suffered "scrapes" ... while Sherman received a laceration on his leg due to contact with the police K9.
The officials also gave an update on Sherman's car ... saying it was severely damaged as a result of its collision with the barrier on the highway, noting one of the car's wheels was nearly completely off when they found the abandoned ride.
The spokespersons said Sherman continues to remain in jail with no bail set yet.
11:21 AM PT -- The Washington State Patrol tells TMZ Sports ... they're now investigating Sherman for a possible hit-and-run and DUI after cops say he crashed his car an hour or so before his arrest.
Officials say Sherman hit a barrier in a construction zone on a highway at around 1 AM ... and then still drove the car -- despite popped tires -- away from the area.
Cops say Sherman then abandoned the ride at a local parking lot off the exit.
WSP tells us troopers later located Sherman along with the Redmond Police Dept. and assisted in his arrest.
We're told police did obtain a warrant for bloodwork to determine if Sherman was impaired.
10:20 AM PT -- Sherman was taken down by a police K9 after trying to break into a family member's home in Redmond, WA before his arrest on Wednesday morning ... this according to law enforcement.
A Redmond Police Department spokesperson tells TMZ Sports the incident all went down at 2 AM.
According to the spokesperson, officers showed up to a residence in the Redmond area after receiving a call from the occupants inside the home who claimed a family member who did not live there was trying to break in.
Cops say when they arrived on scene, they identified Sherman as the suspect ... and claim he became uncooperative and combative during questioning.
Sherman allegedly fought with cops so much ... we're told a K9 was deployed to take down the NFL player and help bring him into custody.
Cops say he was taken to the hospital to be looked at for possible injuries before he was eventually booked at the county jail.
There's more ... the Redmond P.D. spokesperson also tells us the Washington State Patrol is involved in the case, after Sherman allegedly crashed his vehicle into a cement freeway barrier before he advanced on foot to the home.
Jail records show Sherman still remains behind bars.
Future Hall of Famer Richard Sherman was arrested early this morning in Washington for "burglary domestic violence" ... and has been denied bail, TMZ Sports has learned.
The 33-year-old NFL free agent was booked into the King County Correctional Facility in Seattle at 6:08 AM ... and is currently sitting behind bars.
The Burglary Domestic Violence charge is a felony in Washington state ... and can carry a lengthy prison sentence, if convicted.
The details surrounding the arrest are not yet clear.
Sherman -- who played with the San Francisco 49ers last season -- is one of the best players of his generation. RS is a 5x Pro Bowler, Super Bowl Champ, and a lock to be immortalized in Canton, Ohio.
We've reached out to Sherman's rep ... but so far, no word back.
Originally Published -- 8:23 AM PT