Jerry Jones Uses Offensive Term For Little People At Cowboys Training Camp
Jerry Jones
Uses Offensive Term For Little People
... At Cowboys Camp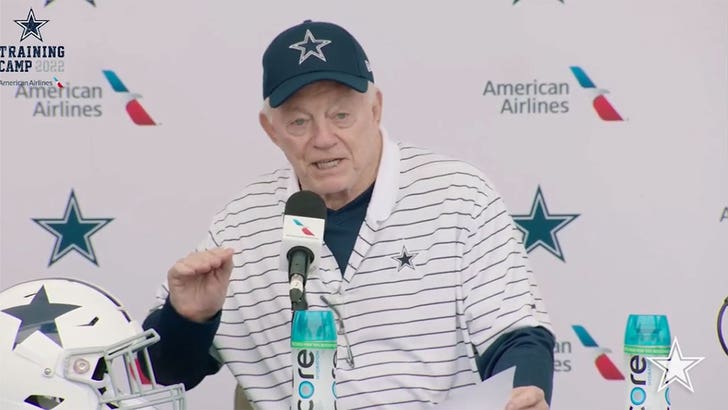 Dallas Cowboys
2:29 PM PT -- Comedy star Brad Williams just fired away at Jones over the offensive comment with a hilarious joke on Twitter.
"When someone offends you, it's important to have empathy and find common ground," Williams said. "Jerry and I have a lot in common. For instance, we both haven't won a Super Bowl in over 25 years."
Brad added in another tweet, "I would only be offended if he called me a Cowboy fan."
Jerry Jones has just put his foot in his mouth at the opening day of Dallas Cowboys training camp ... using an offensive term for little people while addressing a throng of media members.
The team's owner was remembering the late Larry Lacewell -- the Cowboys' longtime Director of College and Pro Scouting -- when he used the m-word.
"Lace held court out here," Jones said while speaking about his former employee who passed away at 85 years old in May. "I'm going to get me somebody, a m*****, to stand up there with me and dress him up like Lace and think Lace is still out here helping us. Look at the practice with us."
"But, you know, we all need our props. A little memory that goes with him."
When saying the term, Jones -- who's 79 years old -- also used a hand gesture signaling he wanted someone smaller in stature.
If you're unfamiliar, the m-word has been deemed a derogatory slur by the Little People of America, who have urged people to stop using the word for nearly a decade.
We've reached out to the LPA for comment, but so far, no word back yet.
Originally Published -- 11:07 AM PT