Royals' Amir Garrett Apologizes For Throwing Drink On Fan During Game
Royals' Amir Garrett
Apologizes For Throwing Drink On Fan During Game
... 'I'm A human That Makes Mistakes'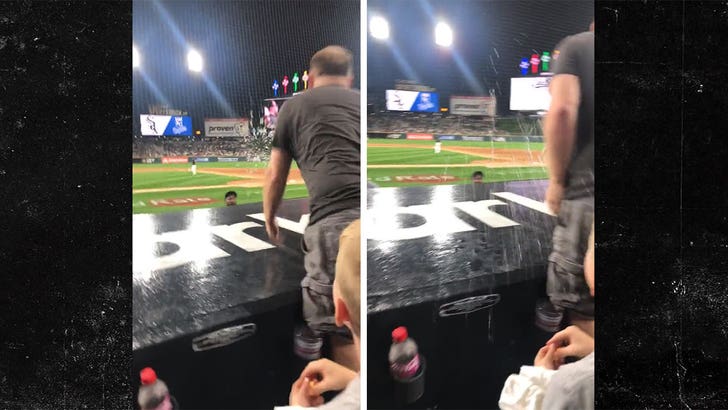 Twitter / @TrevinMarlins, Instagram / @TrevinMarlins
4:20 PM PT -- Seems Amir Garrett had a change of heart ... the Royals relief pitcher has now fired off an apology after throwing a drink on a fan last night in Chicago.
"I owe the fan from last night's incident an apology. I realize my actions were uncalled for and that as players we are held to a higher standard and the chirping from fans is a part of today's game. I hope he can forgive me."
"With that being said, I'm a human that makes mistakes. I will continue to grow and learn from any and all mistakes I make and appreciate everyone's support while doing so."
"Again, I sincerely apologize to last night's fan and all fans who were around. This is a beautiful game that we share, as fans and as players. Let's continue to cherish our beautiful game together."
Royals pitcher Amir Garrett lost his cool during a game Tuesday night -- throwing his drink on a fan who he says had been heckling him.
The shocking incident happened at some point during K.C.'s 9-2 loss to the White Sox at Guaranteed Rate Field in Chicago ... when Garrett had clearly heard enough from a fan who he claims chirped him on his way into the dugout.
Video shows as Garrett was heading down the steps to take a seat on his team's bench -- he stopped to engage in an argument with a man in a gray T-shirt.
Suddenly, Garrett reared back and tossed what appeared to be water on the fan -- hitting a young kid with the liquid nearby as well.
Following the game, the 30-year-old reliever explained the interaction on his Twitter page ... saying the fan had "disrespected" him.
"Listen the disrespect is insane in these parks," Garrett said. "I really wish I could go to someone's work and run my mouth. These are grown men talking slick. How miserable do you have to be with your own life?"
A person claiming to be the fan on Twitter said the altercation happened because he told Garrett that he "stunk" and that another player was better than him.
No word on if either Garrett or the fan will be punished ... the Royals and White Sox have yet to comment publicly on the incident.
Originally Published -- 06:52 AM PT