Ed Sheeran Nixes Nevada Show, Leaves Fans Waiting in Sweltering Heat
Ed Sheeran
Cancels Las Vegas Show Last Minute ...
Apologizes To Fans
Ed Sheeran pulled out of his Nevada concert Saturday night shortly before he was to take the stage ... apologizing to his fans and rescheduling the show.
Sources connected to venue operations tell TMZ ... "The stage wasn't approved last night for safety reasons so they tried to rebuild this morning and even picked back doors opening times as they thought they'd pull it off…nope. It has been rescheduled for Oct 28th. There are fans in the stadium as they made the call and he's in the stands taking pics and saying sorry."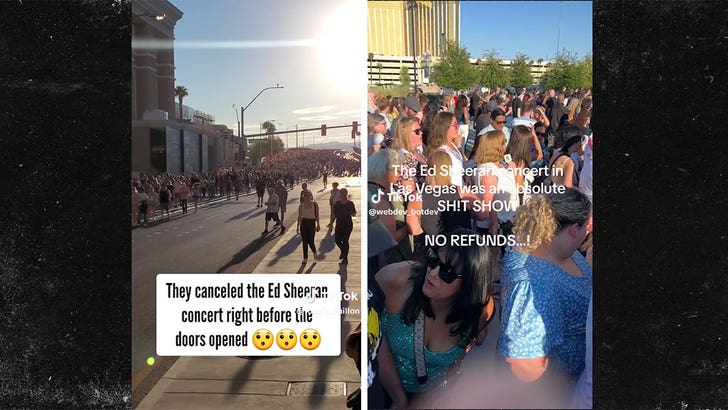 TikTok / @madison_laatz, @webdev_botdev, @foodie.dhillon
The Grammy-winning musician posted a statement on Instagram around an hour before he was set to perform at Allegiant Stadium in Las Vegas.
Sheeran blamed the cancellation on "challenges encountered during the load in of our Vegas show" -- whatever that means.
He went on, "I'm so sorry. I know everyone has traveled in for this and I wish I could change it."
Fans flocked to the arena and stood outside in sweltering temperatures (above 90 degrees!) waiting to go in. But there were constant delays, causing some to fall ill.
The Clark County Fire Department said they treated multiple people for "heat-related issues" at the scene. One person was hospitalized.
A rep for Allegiant Stadium said there were "technical issues" that caused the show to be postponed to October 28. All tickets from last night will be honored at Sheeran's make-up performance, part of his Mathematics Tour.