Bill Maher Says 'Real Time' Is Coming Back Without Writers
Bill Maher
It's Time To Bring My Show Back ...
No Striking Writers Though
6:12 AM PT -- 9/14 -- The WGA released a statement disapproving Bill Maher's show returning during the strike saying, "Bill Maher's decision to go back on the air while his Guild is on strike is disappointing. If he goes forward with his plan, he needs to honor more than 'the spirit of the strike.' Bill Maher is obligated as a WGA member to follow the strike rules and not perform any writing services."
WGA announced they'll be picketing his show.
Bill Maher's talk show is coming back to HBO ... he says he can't keep waiting around for the writers' strike to end and wants to get other folks back to earning a paycheck.
The "Real Time with Bill Maher" host announced his program's return Wednesday in a social media post ... he doesn't say when the show will air but says it will have a different look without writers.
Bill, a writer himself, says he sympathizes with striking writers' "important issues ... and hope they are addressed to their satisfaction" ... but he says after 5 months on strike it's time to bring others back to work.
As he explains ... writers "are not the only people with issues, problems, and concerns. Despite some assistance from me, much of the staff is struggling mightily."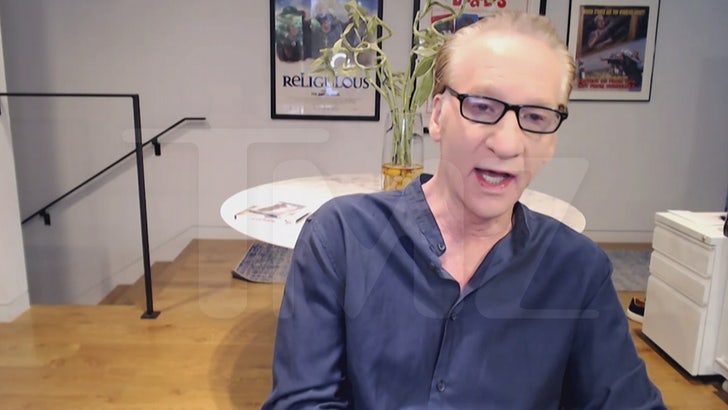 9/7/23
TMZ.com
Bill's been outspoken about the strike recently, even calling for California Governor Gavin Newsom to step in and help end the stalemate.
Bill says he was hoping the strike would end after Labor Day, but that's since passed and he feels "there still seems to be nothing happening."
He adds ... "I love my writers, I am one of them, but I'm not prepared to lose an entire year and see so many below-the-line people suffer so much."
Bill says he will honor the "spirit of the strike" by doing away with a written monologue, desk piece, editorial or his popular New Rules segment ... all of which leaned on writers in past seasons.
The HBO star has a message for the audience too ... "The show I will be doing without my writers will not be as good as our normal show, full stop. But the heart of the show is an off-the-cuff panel discussion that aims to cut through the bulls*** and predictable partisanship, and that will continue."
It will be interesting to see how writers' guilds react to Bill's plan ... at least one guild effectively labeled Drew Barrymore a scab for bringing her talk show back amid the strike.
The show returns to HBO September 22.
Originally Published -- 9/13 5:44 PM PT