Congresswoman Lauren Boebert Booted From Colorado Theater
Congresswoman Lauren Boebert
Kicked Out Of Colorado Theater
.... Accused Of Causing Disturbance
Congresswoman Lauren Boebert and a male companion were booted from a Colorado theater after allegedly acting up during a performance of the touring Broadway musical, "Beetlejuice."
Boebert (R-CO) and the guy she was with got into it with workers at Denver's Buell Theater Sunday night after patrons complained they were "causing a disturbance," according to an incident report obtained by the Denver Post.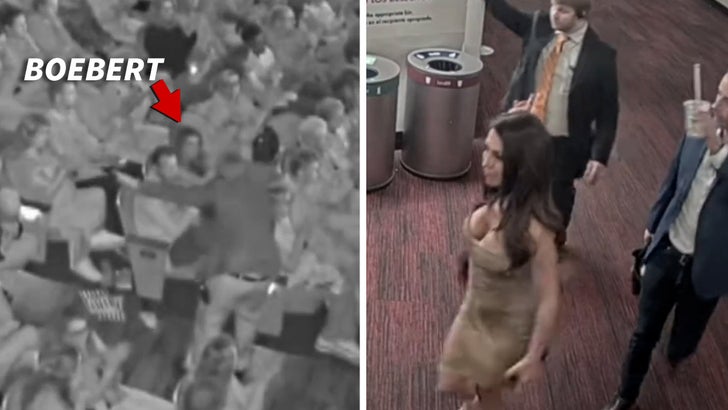 9/10/23
The report does not name Boebert or her sidekick, but her rep later confirmed the incident ... and video captured it.
The two were "vaping, singing," and "recording the performance," which violates the theater's code of conduct, according to the report. An usher asked them to leave and threatened to call Denver PD after they refused to go.
Surveillance footage, with no sound, shows Boebert and her friend sitting next to each other during the play and exchanging words with theater staff.
After about a minute, security guards escort the pair out of the theater and through the halls of the venue.
At some point, Boebert does a slight turn and appears to flip off one guard. She also aggressively points at the guard while saying something.
She and her pal are eventually shown the door -- and they walk away hand-in-hand through the performing arts complex.
The police report noted Boebert and her buddy told theater staff "stuff like 'do you know who I am,' 'I am on the board' [and] 'I will be contacting the mayor.'"
The report also stated ... during the first intermission, a public service announcement encouraged all patrons to follow the rules of conduct, which happened before Boebert's dustup.
Boebert's rep responded to the Denver Post, denying the congresswoman was vaping during the show, but confirming she snapped some photos unaware she was running afoul of theater policy.
The rep added Boebert is "indeed a supporter of the performing arts (gasp!) and, to the dismay of a select few, enthusiastically enjoyed a weekend performance of 'Beetlejuice.'"