James Harrison Says He's Not A Hall of Famer, 'I Don't Believe I Am'
James Harrison
I'm Not A Hall of Famer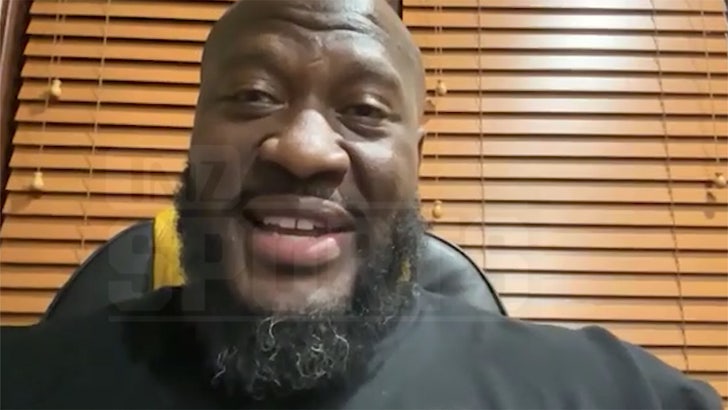 TMZSports.com
If James Harrison had a vote ... the Steelers legend would NOT be in the Hall of Fame -- the former NFL star tells TMZ Sports he truly doesn't believe his resume is good enough to earn him a bust in Canton one day.
"As far as Hall of Fame, you know, it's a lot of things that goes into that," the five-time Pro Bowler and two-time Super Bowl champion explained this month.
"And I believe numbers is one of those things, you know? And when you look at my numbers, they just don't, for me, they don't equate to what the numbers should be."
Harrison played in the league from 2002 through 2017 -- but he was really only a full-time starter from '07 to '13 ... something he clearly believes will likely prevent him from getting in the Hall.
Still, despite only roughly seven years as a cornerstone defensive piece, Harrison dominated when he was on the field -- earning All-Pro honors twice ... while finishing his career with 84.5 sacks and 811 combined tackles.
In fact, the totals were so good, the Hall of Fame announced earlier this summer that he's one of 173 modern-era finalists for the Pro Football Hall of Fame Class of 2024.
Harrison, though, clearly thinks he'll never get the ultimate call to the Hall ... telling us, "That's just how I feel."
But, if it did come, Harrison says he'd be thrilled for the award.
In the meantime, Harrison is going into at least one Hall this season -- the Steelers announced they'll be inducting him into their Hall of Honor later this year ... an accolade he said he's super proud of.
"To be put in a group of guys that are in that company right now, that Hall of Honor, that's a tremendous, tremendous honor."