David Beckham Calls Out Wife Victoria For Claiming She Grew Up 'Working Class'
David Beckham
Blasts Wife For 'Working Class' Claims
... 'Be Honest,' Victoria!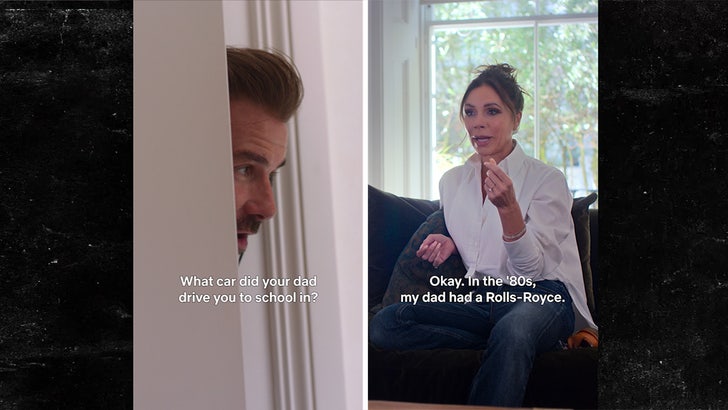 Netflix
David Beckham is dragging his wife, Victoria, for claiming she was raised in a "working-class" household ... demanding she show some honesty in a new docuseries.
The couple got into it while filming the Netflix series, "Beckham," which debuted on Wednesday -- during an interview with the Spice Girls member, Victoria talked about her hard-working family ... alleging she fell into the "working class" category.
David then stuck his head into his wife's interview, scolding her for being dishonest to the producers ... and as she tried to defend herself, DB stuck his ground, making her say what kind of ride she took to school as a kid.
It seems Victoria tried to dodge the Q, but David kept pushing -- and she eventually admits her dad drove her in a Rolls-Royce. Folks online have been applauding David for keeping Victoria's claims in check, too.
Fans of David know his 4-part miniseries follows his rise to the top of his international soccer fame ... as well as their relationship in the late '90s and even David's alleged affair in 2003.
The Beckham clan stepped out for the show's premiere in London on Tuesday ... with the finished product coming 3 years after David worked out a $20 million deal with Netflix.