Cornell Professor Says Hamas Attack Was 'Exhilarating,' 'Energizing'
Cornell Professor
Hamas Attack Was 'Exhilarating,' 'Energizing' ...
Pro-Palestine Rally Remarks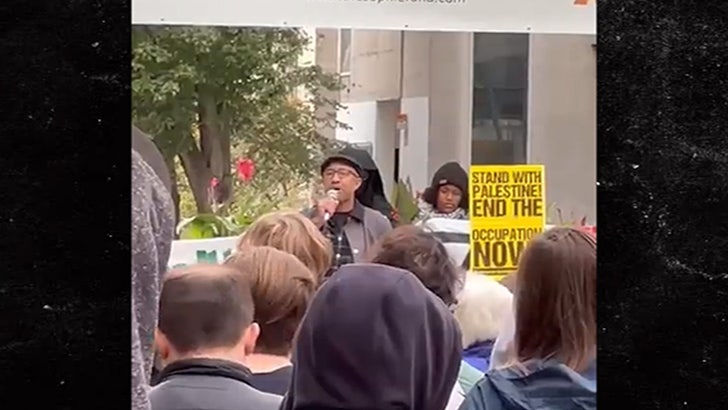 X/@nnn_Netanel_nnn
A Cornell University professor is in hot water for calling the Hamas terrorist attack on Israel "exhilarating" and "energizing" -- his words, and the crowd's reaction to them, are downright ugly.
Russell Rickford -- who's an associate professor of history there at the Upstate NY Ivy League school -- made the inflammatory remarks over the weekend at a pro-Palestine rally ... which were also caught on camera and circulated on social media.
Cropped versions of this clip have been making the rounds, but even in its full context ... what Rickford says here is pretty despicable. Take a look for yourself -- he starts by saying that Palestinians have been living in oppression for a long time, and that what Hamas carried out two weeks ago (an outright onslaught of innocents) gave them renewed hope.
He says the Hamas attack allowed the Palestinian people a chance to finally breathe -- and makes the bold claim that by doing what they did ... they've "shifted the balance of power."
Bottom line ... this all amounts to a justification for the terrorism, and it sounds like most of the crowd that was on hand was backing him -- chanting "From the river to the sea, Palestine will be free." Of course, his remarks have also drawn outrage on the other side.
Amid the outcry ... Cornell has yet to respond, nor has Rickford himself. Many are calling for his job ... but it's unclear if anything's going to happen on that front.
On the opposite coast, however, a different professor from a separate prestigious school is singing a different tune on this issue -- UC Berkeley law professor Steven Solomon is now calling for students who preach Professor Rickford's brand of discrimination to be blacklisted.
He wrote an op-ed in the Wall Street Journal arguing as much ... saying that law firms should not hire Berkeley grads who've spewed "hate, dehumanization or anti-Semitism toward Jews" -- which he says some of his Berkeley students have been doing.
He writes, in part ... "My students are largely engaged and well-prepared, and I regularly recommend them to legal employers. But, if you don't want to hire people who advocate hate and practice discrimination, don't hire some of my students." He goes on to state that it is the "duty" of law firms to reject job applicants "if they support discriminatory bylaws or other acts and resolutions blaming Jews and Israelis for the Hamas massacre."
Correction (10/18/23): A previous version of this article incorrectly stated that Professor Solomon's proposed blacklist extended to those who support Palestine or echo pro-Palestine sentiments. Professor Solomon's op-ed referred only to those who endorse hate and discrimination, or who blame Jews and Israelis for the Hamas massacre.