Everything We Know About Bella Hadid's New Cowboy Boyfriend, Adan Banuelos
Bella Hadid
Everything We Know About New BF
A Not-So-Famous Cowboy!!!
Bella Hadid's new boyfriend is a good old-fashioned cowboy -- and while he's certainly known in his own profession ... the dude isn't nearly as famous as any of her other exes.
35-year-old Adan Banuelos -- who doesn't have his own Wikipedia page -- is an esteemed horse rider and trainer ... known for getting the animals ready for competition/performances. He's been doing this since he was a kid ... coming from a family of horse trainers, who are also accomplished.
What we do know for sure is that he started racking up awards in his industry in the 2010s -- specifically, with the National Cutting Horse Association ... an org he's very familiar with.
Cutting horses essentially boils down to making sure they can herd cattle and participate in other athletic events ... including what you might see at a rodeo. Banuelos himself isn't a rodeo guy, per se, but he's got a rep for being one of the best at preparing horses for that.
As proof, consider AB was inducted into the NCHA Hall of Fame in 2017 ... going on to be named the NCHA's "Leading Open Rider" in 2018, 2020, 2021 and 2022. He's also won the NCHA Open Futurity Champion ... among LOTS of other accolades he has to his name.
In terms of how he makes a living ... it probably goes without saying, he sells his horsey skills and runs his own business. And it sounds like he's been doing quite well for himself ... 'cause the dude actually touts his own net worth on his website -- at least $5 million.
We also know Banuelos lives out there deep in the heart of Texas ... which is where Bella was just spotted hanging out with him in public and showing off major affection too.
TMZ.com
Still no word on how exactly these 2 met, but Bella's affinity for horses as an equestrian is no secret ... so, perhaps, she stumbled across him through connections in that world. In any case, Banuelos is on the map now -- and has a bigger profile than he's ever had before this.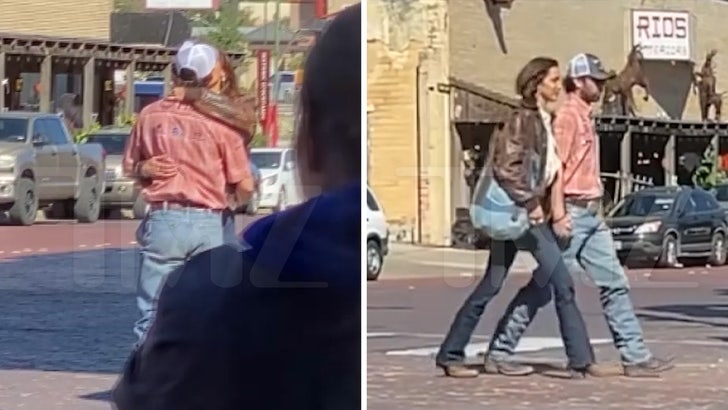 10/17/23
TMZ.com
Keep in mind, the men Bella has been involved with pre-Adan are big names ... like Marc Kalman, a famous art director, and of course The Weeknd.
It's interesting that she's pivoted toward someone who isn't nearly as in the spotlight ... and who most certainly isn't anywhere near Hollywood whatsoever. Let's see where it goes!