Lupita Nyong'o Announces Split with Boyfriend on Heels of Concert with Joshua Jackson
Lupita Nyong'o
Announces Split with Boyfriend
On Heels of Night Out with Joshua Jackson
Lupita Nyong'o and her boyfriend are no more, the actress just announced her split with Selema Masekela -- saying he's totally lost her trust -- and sharing the news on the heels of a night out with recently divorced Joshua Jackson and friends.
In a lengthy statement posted Thursday, Lupita starts out by sending her thoughts to those suffering around the world before diving into the breakup. She states, "At this moment, it is necessary for me to share a personal truth and publicly dissociate myself from someone I can no longer trust…"
She continues, "I find myself in a season of heartbreak because of a love suddenly and devastatingly extinguished by deception. I am tempted to run into the shadows and hide, only to return to the light when I have regained my strength enough for me to say, "Whatever, my life is better this way." But I am reminded that the magnitude of the pain I am feeling is equal to the measure of my capacity for love."
Lupita adds she's sharing the news to keep things open and honest with her social media followers, saying, "And so, I am choosing to face the pain, cultivating the courage to meet my life exactly as it is, and trusting that this too shall pass."
Lupita ends her message by saying she hopes it'll help someone else "experiencing the grip of heartbreak who is poised to try and escape from the pain and miss out on the wisdom that comes from it."
Fans became skeptical after photos surfaced of Lupita out with Joshua Jackson at a Janelle Monáe concert in Los Angeles Wednesday, wondering if she had moved on from Masekela.
Sources with direct knowledge told us Lupita and Jackson are just friends and attended the show with a group. However, it was soon noticed she'd also deleted all her photos with Masekela from her Instagram page ... raising more questions as to what happened.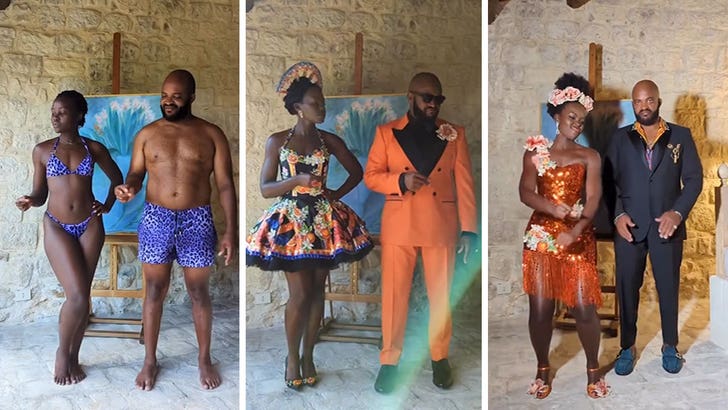 DECEMBER 2022
Lupita and Selema are linked back all the way to 2016 ... he has not yet commented on the split.