Officials Say Mass Shooting In Maine Leaves 18 Dead, 13 Injured
Maine Mass Shooting
Gunman Opens Fire At Bowling Alley & Bar ...
18 Dead, 13 Injured
10/26 -- 7:45 AM PT -- Officials just held another press conference, revealing 18 people were killed in Wednesday night's shooting and 13 were injured. 7 (1F, 6M) of the deceased were killed at the Just-In-Time Recreation Center, 8 (8M) were killed at Schemengees Bar and Grille ... and 3 people transferred to the hospital died.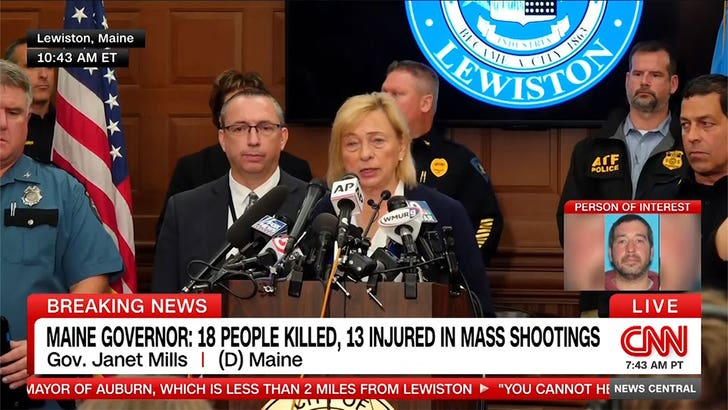 CNN
8:35 PM PT -- Cops just provided an update, saying the person of interest is 40-year-old Robert Card. Residents are advised to shelter in place, as he's still on the loose.
7:31 PM PT -- Reports now say at least 20 are dead ... and the suspect is still on the loose, allegedly seen driving a white Subaru.
A gunman went on a deadly shooting rampage at a bowling alley in Maine, killing at least 16 and injuring dozens more ... and the suspect is still on the loose.
The mass shooting went down Wednesday night in Lewiston, Maine ... and there are also reports of shots being fired at two other locations ... a local bar and a Walmart.
Maine State Police says it's an active shooter situation ... and folks are being asked to shelter in place.
There are images of a gunman in the bowling alley ... and he appears to be armed with an assault rifle.
Cops are also looking for a car believed to belong to the gunman.
Lewiston is the second largest city in Maine ... it's roughly 30 miles north of Portland.
Originally Published -- 10/25 6:47 PM PT