Australian Windsurfer Slams Into Massive Whale During Wild Ocean Ride
Australian Windsurfer
Slams Into Massive Whale During Ocean Ride
... 'I Thought It Was All Over'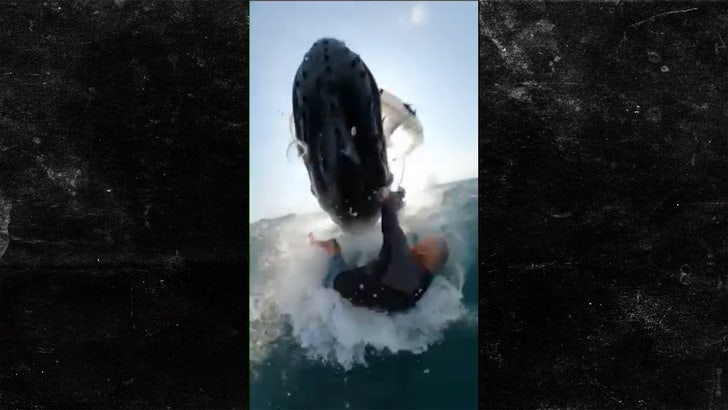 Jason Breen
A windsurfer got an unexpected surprise while hitting the waves in Australia this week ... a massive whale body-slammed him while he was mid-ride -- and for a moment, he thought the sea creature was going to kill him.
It all happened when Jason Breen was boarding off the coast of one of Sydney's northern beaches on Wednesday morning.
The 55-year-old was cruising on the water on a beautiful day ... when suddenly, he smashed right into a breeching whale.
You can see in video caught on Breen's GroPro cam ... he hit the mammal hard -- and in an interview with Windsurfing.TV hours after the incident, he said he feared his life was over.
"It did drag me down sort of 20-to-30 feet," Breen said. "The only thing that saved me was my leash. The webbing completely ripped out. And if it didn't, I probably wouldn't be here. It was only the snap of that leg rope that actually saved me."
Breen said he believed the whale dragged him under the water for around 20 seconds ... telling 9News, "I thought it was all over."
Breen, though, was able to laugh about it all after he escaped ... and then he found out a bystander, Paul Nettlebeck, actually happened to catch the moment on camera from a few hundred yards away.
Waiting for your permission to load the Facebook Video.
In fact, Nettlebeck was so nervous after witnessing it all, he said called authorities in Australia to seek help.
Thankfully, no one was injured ... and Breen now has a memory he'll never forget.