Cardi B's already making a New Year's resolution, promising to drop all "dead weight" in her life -- a vow that comes on the heels of unfollowing her husband Offset on Instagram. 🤔
Cardi recently told her followers on IG Live they should not wait for 2024 to change their lives because that's exactly what she's doing.
Of course, the outspoken NY rapper used much spicier language while explaining her rationale, saying she's "taking that s**t to the f**king heart!"
Cardi also vowed to make adjustments to her music career and personal life, pointing out that she knows where she wants to be.
Then, as she got emotional, Cardi said, "You gotta rid of dead weight, and when it comes to dead weight ... I'll say mentality, procrastination, laziness and people. A lot of people are dead weight, too."
She added, "Next year is gonna be all about me."
Cardi's blunt statements come one day after she and Offset unfollowed one another on their respective IG platforms. Clearly, there's trouble in paradise between the hip hop couple, but it's unclear what the issue is.
She clearly alluded to marital problems on Monday as she posted, "You know when you just out grow relationships." Cardi also added, "I'm tired of protecting peoples feelings...I GOTTA PUT MYSELF FIRST."
Then Offset posted a famous clip from the 1983 film, "Scarface," that suggests he's the brains behind all their achievements.
These ain't even subliminal, at this point, folks.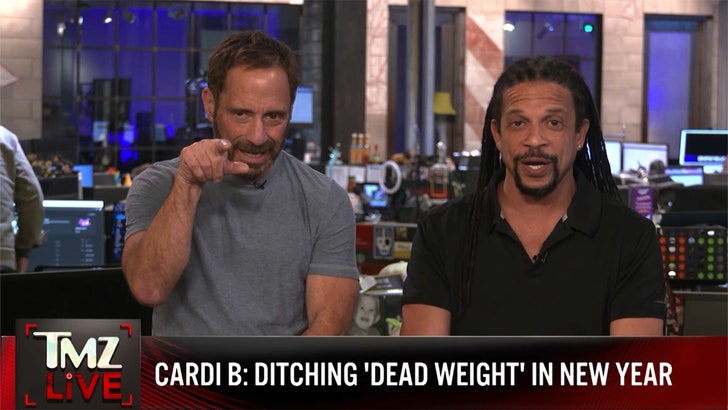 TMZ.com
It is interesting, though, that they're not calling each other out by name. Not yet.
We covered the drama on a recent episode of The TMZ Podcast, available on all podcast platforms.