Is Lindsay Lohan out for revenge against Jessica Simpson by going after Nick?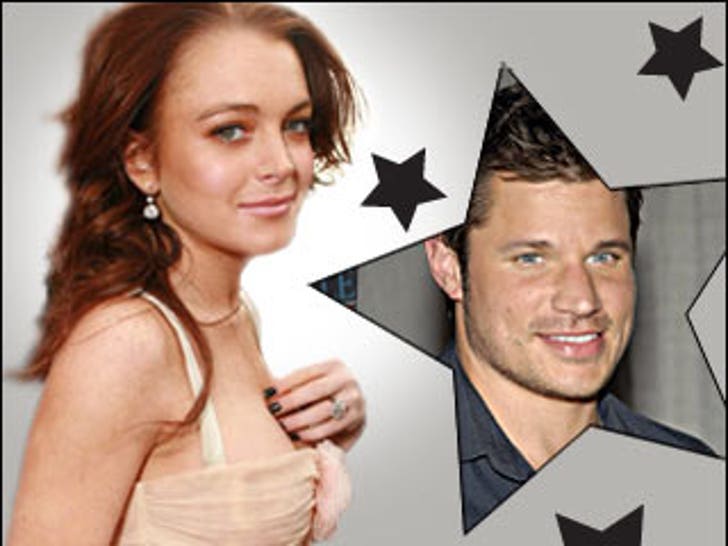 THE RUMOR: Is Lindsay Lohan out for revenge against Jessica Simpson by going after Nick?
WHERE IT STARTED: Recently, at Hollywood hotspot The Dime, Lindsay sent a round of drinks over to Jessica Simpson's table (where Jess was sitting with Lindsay's then-rumored boyfriend, director Brett Ratner). Lohan supposedly didn't receive a thank you from Jess, reportedly leaving Lohan furious and jealous.
A few days later, 'Life and Style' reported Lindsay told a friend she was going to get back at Jessica by going after her estranged husband, Nick Lachey.
HOW IT SPREAD: Rumors of a Lohan/Simpson feud have actually been brewing ever since Ashlee Simpson allegedly got involved with Lohan's ex-boyfriend, Wilmer Valderrama. That led to reports that Lohan didn't let Jessica and Ashlee into her MTV Movie Awards party at the Standard Hotel in Hollywood last June.
Ashlee then reportedly fired back at Lindsay with her hit single, 'Boyfriend.' Now rumors are flying that the recent spat at The Dime was the Simpson sisters' last straw.
THE TMZ LOWDOWN: Lindsay's rep denied the story to 'Life and Style.' Sources close to Nick have told TMZ that there's nothing to the rumors -- that Lindsay has made no contact with Jessica's ex.
Rob Shuter, Jessica's publicist, also tells us that rumors of a feud between the girls "are a whole lot of nothing." But unfortunately for Lindsay, when Nick was asked about the rumor in a recent radio interview, he stated "I can safely say that I don't have any interest in Lindsay Lohan...nor do I understand anyone else who does." Ouch, will this lead to a Lachey/Lohan feud?
The bottom line -- there seems to be some bad blood between the two young divas, but it has not escalated to "I'll steal your guy" warfare.
TMZ-TRUTH-O-METER:
So, is Lindsay out for revenge against Jessica by going after Nick? Click below to find out.