The Seven Wonders of the TMZ World!
The Seven Wonders
Of the TMZ World!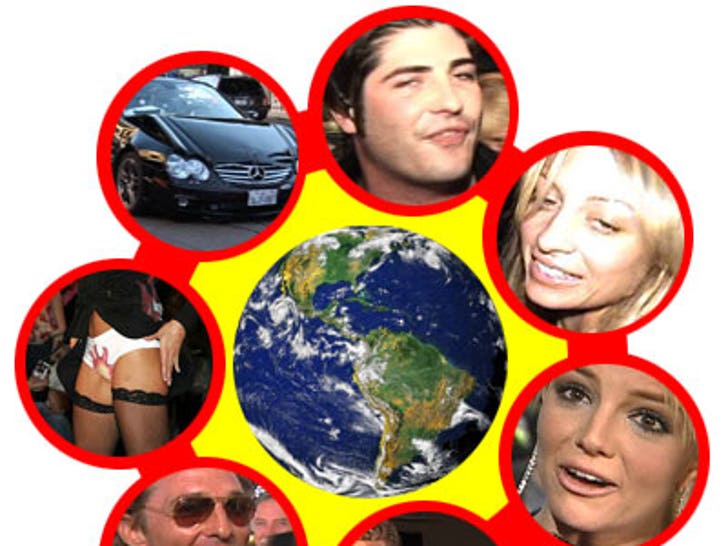 Lindsay Lohan's Driving Skills
Poor Lindsay Lohan: disaster seems to strike whenever shes' behind the wheel. It's a wonder the girl ever gets anywhere at all! It must be all those really tricky L.A. roads. Yeah, that's it!
Nicole Richie's Pregnancy
Was it a pregnancy bump, or had Nicole merely decided to eat a sandwich? For weeks, rumors swirled about whether or not the skinny mini was pregnant -- or just eating again. Turns out Nicole -- always a trendsetter -- is going to be the first celebutante mommy in town.

Britney's Trainwreck-eration
First there was the quickie Jason Alexander wedding. Then came the decision to marry K-Fed and the ensuing divorce. Then there was the partying with Paris. The head-shaving debacle. The paparazzi umbrella-smashing incident. The panty-free partying pictures. The rehab. The post-rehab. The list goes on and on. When will it end?

Brandon Davis' Oily Sheen
For an oil heir with so much cash, how come Brandon Davis can't seem to figure out a way to stop sweating? Somebody get this guy a towel!
Matthew McConaughey's Missing Shirt
For months now, poor Matt has been wandering the world, playing his bongos and collecting sexy accolades sans shirt. Where-oh-where could Matty Boy's t-shirt have gone? And as long as he's looking so good, does anyone truly care if he ever finds it again?
The Heidi Montag - Spencer Pratt Relationship/PR Juggernaut
These two boobs and Heidi's new boobs have managed to stretch their 15 minutes of fame to 20. What's even crazier is that oily, obnoxious and obviously conniving Pratt has actually convinced this girl to marry him. She must be the dumbest blonde around.
The Lack of Underwear in L.A.
Is there a dearth of Victoria's Secrets and La Perlas in L.A.? No Agent Provocateurs around? That must be the reason why so many stars are caught panty-free these days. Or perhaps someone's panty-raiding the underwear drawers of Britney, Lindsay and the like. Mysterious!