Mickey Rourke Busted ... on a Vespa!!
Mickey Rourke
Busted
... on a Vespa!!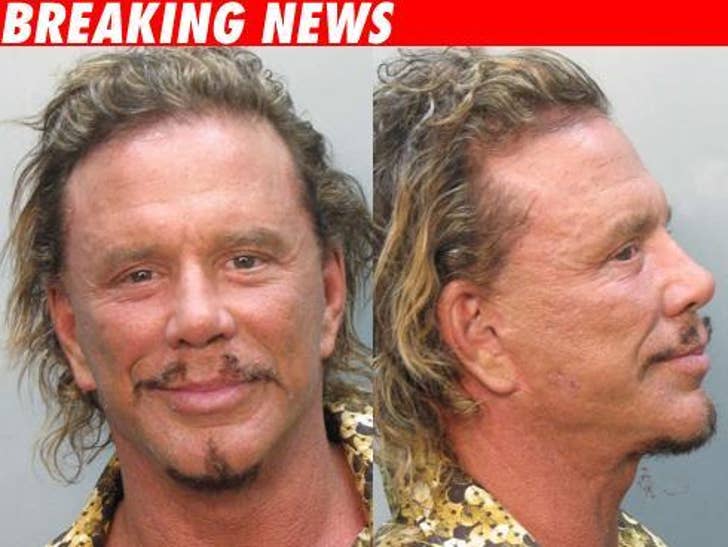 Actor Mickey Rourke was arrested for DUI this morning in Miami Beach, riding his blue-green Vespa. Harley Davidson and the Marlboro Man, is that you?!
Jose Lambiet of the Palm Beach Post broke the story this morning. Lambiet says a local paparazzo was on the lookout for Jennifer Lopez, who was in town for her concert when he bumped into Rourke and an unidentified woman around 2:00 AM walking into a nightclub.
"They came back out two hours later and crossed Washington Avenue to go to his scooter," the photog said. "They both got on it, and he did a U-turn to go north. He was pulled over within a block. "The cop says to him: 'You swerved right in front of me.' And Mickey answered: 'No, no, dude, I'm all right.'"

According to the police report, Rourke asked the cop, "What the f*** did I do?!" Cops say the actor's "face" was flushed, his eyes were bloodshot and watery and his speech was slurred. "I'm not drunk, I didn't even drink that much," Rourke said, according to the report. Barfly!
He was booked into the Miami-Dade Pre-trial Detention Center around 9:30 AM and is being held on $1,000 bond.
Let's hope he doesn't get sentenced to 9 1/2 weeks!
More Today in TMZ History