Shawn Johnson $cores Big with 'DWTS' Contract
Shawn Johnson
$cores Big with 'DWTS' Contract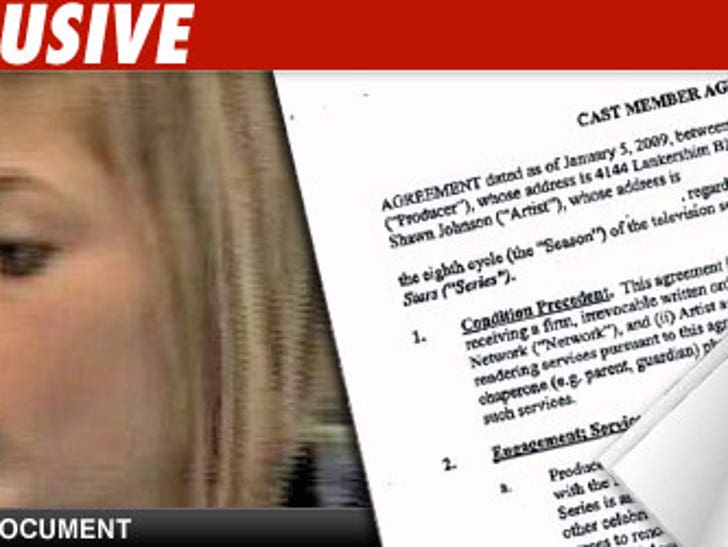 Shawn Johnson is raking in the cash on "Dancing with the Stars" -- although she may not think it's worth the hassle of dealing with alleged stalker Robert O'Ryan ... and we have her contract to prove it.
We've obtained a copy of Shawn's "Dancing" contract -- a public document filed with the L.A. County Superior Court. A judge had to approve the deal because she's a minor. Under the contract, Shawn gets a guarantee of $125,000 for appearing on the show. By surviving the first elimination, she gets an additional $10,000 a week for weeks 3 and 4.
If Shawn survives the next eliminations, the rate doubles to $20,000 a week for weeks 5, 6 and 7. For weeks 8 and 9 she scores $30,000 a week.
And here's where it really gets sweet. In weeks 10 and 11, if Shawn makes it through, she gets $50,000 a week.
Total take if Shawn makes it to the final 2 -- $365,000.
Under the contract, Shawn must train approximately 20 hours a week. As for the all important issue of injuries ... the contract makes it clear that "Dancing" has no liability. It reads, "Artist releases Producer, Network ... from any and all claims ... arising from physical or other injury resulting from Artist's appearance in the Series..."
Nice work if you can get it.